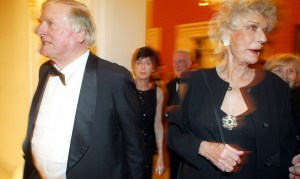 In October, Christopher Buckley, the son of conservative Manhattanite William F. Buckley, called the $24.5 million price tag for his late parents' four-bedroom Park Avenue apartment an "absurdly inflated price" in the New York Times. 
The real-estate agents handling the listing, Tom and Catherine Holmes, were displeased to say the least.  
At the time of the published insult, the Observer's Max Abelson wrote:  
Mr. Buckley should have known that at
778 Park Avenue
—Buckley and his socialite wife, Pat, were downstairs; Vera Wang just sold to a Hummer cars heiress; Brooke Astor's duplex is on the market for $46 million—saying something bad about your family's listing (even if it's true) is like insulting a neighbor's wife's rhinoplasty. It's simply not done. Brokers will look foolish. Buyers will be turned off. In an interview this week, Ms. Holmes seemed unthrilled but not furious. "You have to remember, Christopher is a satirist. So you can't just take something out of context from the article. … He's not a serious, serious writer."
Ms. Holmes then made the argument to The Observer that the price is no more inflated than that of other apartments in the building or on Park Avenue for that matter, but eventually conceded that one inflated asking price cannot be justified by other asking prices. Back then Mr. Holmes said that they were considering dropping the price but wouldn't specify how much time he's been given to sell the house.
But judging from a piece in the Times yesterday (which lists the same price of $24.5 million), Mr. Holmes hasn't given up yet. In fact, the article, which details all the ways in which the apartment is special and gives a 360 degree virtual tour of the place, might even be the broker's last attempt at attracting a willing buyer.   
The apartment, we're reminded by the piece, was often the venue for a 40-year long tradition of Monday night dinners that famously included peanut butter canapes and Veuve Cliquot in the "Red Room" before the guests were summoned to the dining room for an evening of conversation with William and Pat. 
"It is said that Mr. Buckley hosted 1,200 formal events there — extravagant evenings to complement the green silk walls and the chartreuse sateen leopard-print chairs," the reader is informed, as if the happenings in the apartment add intangible value to the decor. But since his death, much of the gold and china has been packed up and shipped off to Christie's. 
In the end, we are reminded of the asking price and that the building co-op board is on a search for "Qiuet Money"  to fill the place.