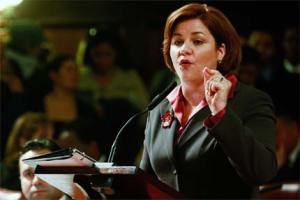 ALBANY—Christine Quinn is weighing in on Barack Obama's choice of pastor at his inauguration, expressing "profound objection" to the selection of Rick Warren, who "publicly and rabidly committed to denying same-sex couples the right to civil marriage, and all of the rights and responsibilities that civil marriage provides."
"Yet what is so offensive here is not the mere selection of a religious leader who is opposed to same-sex marriage. It is the selection of a man who has used his position to try to deny others their civil rights, and to create huge divisions among Americans," Quinn, who is gay, wrote in a letter to the head of the Inauguration Committee.
Obama has responded to such criticisms by talking about the diversity of opinions his administration hopes to represent. The City Council speaker  is not the first to jump on this bandwagon.
On the other side of the issue, State Senator Ruben Diaz Jr. lauded Obama's choice. Diaz, a Pentecostal reverend, is an outspoken opponent of same-sex marriage.
Elected officials and educators in New York are offering the opportunity for public school students to watch or listen to the inauguration on Jan. 20.