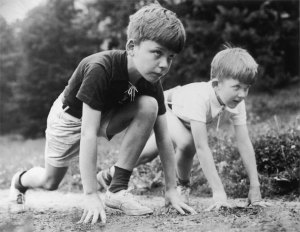 On December 9, 10 candidates presented their case to take over the New York Tech Meetup at Barry Diller's glittering IAC Building lobby in Chelsea. The room was half-empty, a curious scene for the normally packed New York Tech Meetup. But this time, no five-minute infomercials for new Web-based companies would be made. Instead, attendees saw short video and PowerPoint presentations of local community members who want to take over one of the most well-attended events in New York Tech and turn it into an organization.
Candidates included a mishmash of well-known community members and relatively unknown folks. They are all running to replace Scott Heiferman, the CEO of Meetup, who founded the monthly meeting of entreprenuers, venture capitalists and various geeks and stepped down in November. Voting began at midnight last night. Members of the New York Tech Meetup have 24 hours to cast their votes here. They'll have nine candidates to choose from since Richie Hecker, who founded the BootStrapper Group and works as a business consultant, dropped out late last night.
The poll will close at 11:59 p.m. tonight. Who is in the lead?
Sanford Dickert, whose presentation is posted via video here and wrote a statement:
I am running for NYTM Organizer to maintain our tradition of being a premiere platform for tech demonstrations, our place in exciting the NY community about building tech businesses, and offering connections with like-minded people – all which we will enhance with our community energy.
But this growth will only happen with the help of all of you to add to the ideas for a stronger NY Tech Community. Please join me at nytechvision.com to discuss for how we might move forward on the NYTM. Building on our successes to create a stronger NY Tech Community is why I am running – but our success occurs only if we can create it together.
Oz Sultan, video here and statement here:
Committed to the NYC scene, Oz has the acumen, ability and passion to continue NYTM as THE showcase in NYC while working to engage related Meetups, Womens organizations, Government and colleges to work with the community. His focus is leadership, inclusiveness of peer organizations and fellow leaders as well as developing NYC as the Tech hub it's meant to be.
Nate Westheimer, video here and statement here:
As the Entrepreneur in Residence of Rose Tech Ventures, I am already an active participant in a diverse set of groups in the New York tech community. If elected the next NYTM Organizer, I will stay on as EIR and will dedicate my time, pro bono, to organizing the NYTM and working with other Community Organizers to create a platform for coordination and collaboration among the dozens of existing groups and constituencies in the New York tech ecosystem. For more information, visit my blog:
http://innonate.com.