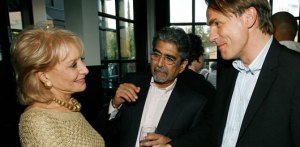 Random House CEO Markus Dohle sent a long year-end letter to staff this morning outlining goals for 2009 and reaffirming that, despite "economic forecasts for 2009 [that are] growing more pessimistic each day," the company "will continue to spend several hundred million dollars to acquire and market" its books and maintain the "publishing independence and autonomy" of its 130 imprints worldwide.
As news of staff cuts at Random House's American units starts to trickle in, Mr. Dohle asks in his letter that everyone find ways to cut costs. He notes that while "For some, it is a tough message to be asked to consider reducing your spending as part of your daily decision-making, but cost saving is as much a mental as it is a financial discipline."
"The more we save in costs," Mr. Dohle writes, "the more we will have to invest in our publishing."
According to corporate spokesman Stuart Applebaum, the letter has been translated into German and Spanish and will be sent to staff in all 20 countries where Random House maintains publishing operations. Mr. Applebaum said Mr. Dohle, who moved to New York from Germany when he was appointed CEO of Random House last summer, will be handling the German version himself.
The full text of the memo below. 
December 18, 2008
Dear Random House Colleagues,
We soon conclude an evolutionary 2008 for Random House: a year of many publishing triumphs, and a year in which we have begun implementing a strategy and vision for our company that will enable us to come out ahead and build our business profitably amid an almost unprecedented economic downturn. Each of our divisions worldwide has been rethinking, and in some cases reformulating, what we must do to adapt to the changing ways our books are being ordered and sold by our retailers and distributors and purchased and read by consumers. We have faced and will continue to approach these and other challenges directly, confidently, and creatively.
With their abundant publishing and business skills, each of our international divisions achieved much in 2008, and several of them outperformed their flat marketplaces. Overall, our business model is robust.
Verlagsgruppe Random House had an outstanding year, with record sales and profitability in Germany. Random House Mondadori exceeded its ambitious fiscal-year targets, with excellent operating results in Spain and now also in Latin America. The Random House Group UK dominated the London Sunday Times bestseller lists with more #1 titles than any other publisher: an outstanding performance that helped increase market share and outperform the market. Random House Kodansha had a huge success with Randy Pausch's THE LAST LECTURE, and Random House Korea in a fragmented marketplace surpassed most of its domestic competitors. Random House of Canada achieved its financial goals for the year with a record number of #1 bestsellers and numerous literary-award recognitions. In a most difficult year, Random House, Inc. placed more books than ever before on the New York Times Book Review weekly bestseller lists: 265 titles; 25 at #1.
Momentum '09:  Creating New Opportunities
Let's look forward. With the economic forecasts for 2009 growing more pessimistic each day, it is critical for us to have a clear plan for a successful future, focused on increasing creativity, efficiency, and effectiveness. Here are some key components of our strategy.
Investing in Our Publishing Future: It is important for you to know that in 2009 we will continue to spend several hundred million dollars to acquire and market our books worldwide. The publishing power of Random House lies within its more than 130 imprints around the world. They are the core of our entrepreneurial activity and our growth potential.  Their publishing independence and autonomy is ensured and their responsibility to be financially accountable is imperative. Author development remains our publishers' number one objective.
Becoming Even More Customer-Oriented and Market-Driven: It is hardly a secret that many of our booksellers around the world are struggling. Some have implemented tighter inventory controls, which has a tremendous impact on every publisher's frontlist and backlist orders. As our customers change their way of doing business with us, we have already begun to help one another with practices to grow their bottom line, and ours. For instance, we increased our efficiency with our customers in the U.K. and Canada by restructuring our field sales force in each country from three to a single national force. In Germany, we instituted "RH 3.0," becoming the country's first book publisher to have three, not two, annual sales cycles. This will create greater marketing opportunities and a basis for sales growth in the future. And in the U.S., we are looking at aligning our sales forces even more closely with how most of our customers actually buy our books, by publishing category and format.
Providing Our Customers with the Best Service: With the shift among retailers to ordering lower initial quantities while demanding faster, more frequent replenishment, our Sales & Operations teams worldwide are working to build capabilities that will significantly reduce the time it takes us to re-supply our customers and to respond to consumer demand for our titles. These initiatives also will help offset rising costs and the environmental impact of excess inventory throughout the supply chain. Initial retailer response to the testing of new capabilities has been overwhelmingly positive.
Growing Digitally: More consumers every week are choosing to read books on a screen rather than on paper, making our considerable investments in digital-publishing development and resources vital and necessary. Our e-book publishing programs in the U.K., Germany, and Canada increased significantly in 2008, and we are budgeting for more such growth in '09. In the U.S., the biggest electronic-publishing market, our e-book sales for 2008 have grown by 400% over last year. Our e-catalog will consist of more than 15,000 Random House, Inc. titles by mid-2009, some of which are now newly available on the iPhone.
Broadening Our Cost-Discipline Approach: The biggest challenge to our bottom line in the coming year will continue to be rising costs. For some, it is a tough message to be asked to consider reducing your spending as part of your daily decision-making, but cost saving is as much a mental as it is a financial discipline. The more we save in costs, the more we will have to invest in our publishing.
Getting Greener: A priority for us in 2009 will be building upon our landmark book-publishing green initiatives.  In the U.S., for example, we will increase our recycled fiber paper targets for our book production to 20% and set a reduced greenhouse-gas emissions target.  In Germany, we take tremendous pride in being the only trade book publisher to use only FSC-certified paper for our books. In the U.K., a carbon-footprint action plan will save 250 tons of C02 per annum.
Big Books = Big Year
We cannot allow the economic crisis to overshadow or distract us from the enormous commercial potential of our imprints' publishing programs for the coming twelve months. We have an amazing lineup of our authors' hardcovers, trade and mass-market paperbacks, audios, and e-books. They include:
Fiction by Rafael Ábalos, Ann Brashares, Isabel Allende, Martin Amis, Margaret Atwood, Maeve Binchy, Lee Child, Pat Conroy, E. L. Doctorow, John Grisham, Sara Gruen, Mark Haddon, Robert Harris, Carl Hiaasen, John Irving, Kazuo Ishiguro, Ha Jin, Jonathan Kellerman, Sophie Kinsella, Dean Koontz, Stieg Larsson, Charlotte Link, Juan Marsé, Terry Pratchett, Philip Roth, Carlos Ruiz Zafón, Richard Russo, José Luis Sampedro, Danielle Steel, and Anne Tyler. 
Nonfiction from Deepak Chopra, Ann Coulter, Richard Dawkins, Ina Garten, Stephen Hawking, Tracy Kidder, Cesar Millan, Suze Orman, Richard David Precht, Rachael Ray, David Sibley, Delia Smith, Richard Stengel, and Martha Stewart, among many others—and, of course, new readers for President-elect Barack Obama's two landmark memoirs.
The strength of our 2009 publishing programs clearly illustrates that with every crisis come opportunities. Let us share a commitment to become more resourceful, more accountable, more responsive, and more collaborative as we continue to acquire and publish the best books in the world. Let us take this opportunity to come out of these times stronger than ever as an international team in a global company.  Our future has begun—and it starts with you.
In these final working days of 2008, I want you to know how deeply grateful I am for all you have done for Random House this year. You have made everything we do with our authors, our booksellers, our business partners, and our book buyers possible. Have a safe, fun holiday season. Enjoy your rest.
Sincerely,
Markus