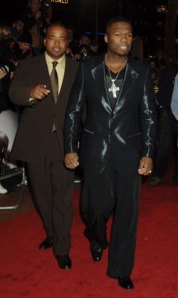 The idea that rappers are valuable not just for their awesomely rhyming insights into romance and street life ("Safe sex is great sex/ Better use a latex," Lil' Wayne says, "'Cause you don't want that late text/ That 'I think I'm late' text"), but for marketing Vitaminwater and ChapStick—or for star turns in Hollywood films—has turned out to be massively lucrative.
So it shouldn't be surprising that Chris Lighty, whose pioneering firm Violator manages rap icons like Busta Rhymes, Diddy and 50 Cent (pictured, right, with Mr. Lighty), just bought two apartments at the new mega-condo Chelsea Stratus. He paid $5.28 million total, according to city records filed this week.
"Now you have to have as many strategic alliances as possible to market your music and market your brand, to grow the brand and then in turn, hopefully, grow and help another brand," Mr. Lighty, the oldest of a single Bronx mother's six children, said in an AP profile last year. Outside of Violator, he is the CEO of the Brand Asset Group, formed last year with Warner Music Group to "increase revenue by more aggressively managing artist brands from all genres and capitalize on the value of those brands through corporate sponsorships, strategic and integrated marketing campaigns," a press release said then.
A broker involved with the deal said the layout has been altered, but original floor plans show that the 3,280-square-foot spread would have had four bedrooms; four bathrooms and two powder rooms; two balconies; two kitchens; and three walk-in closets.
A woman who picked up the phone at Mr. Lighty's office on Monday said, "He's actually on a call with Busta Rhymes." Two messages and two emails were not returned.
mabelson@observer.com