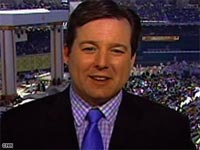 Today, CNN executives announced a series of changes in how the cable news network will be deploying reporters in Washington, D.C.
From the press release:
Ed Henry, who has provided comprehensive coverage of the Obama transition, becomes senior White House correspondent after covering the past two years of the George W. Bush White House and spending two years as CNN's congressional correspondent. Suzanne Malveaux, who distinguished herself with exceptional coverage of the Obama presidential campaign and reported a two-hour documentary on the president-elect, returns to the White House. She will also serve as a primary substitute anchor for The Situation Room with Wolf Blitzer. Boston bureau chief and correspondent Dan Lothian, who reported extensively from the campaign trail in both 2004 and 2008, will become a White House correspondent as well.
Dana Bash, who broke numerous exclusives while covering the Republican primaries and the McCain campaign, is named senior congressional correspondent. Bash has covered Congress for nearly a decade and was honored with the prestigious Dirksen Award in 2002. She will be joined on Capitol Hill by Brianna Keilar, who has served as a general assignment correspondent for the network for nearly three years and covered Capitol Hill and the White House during the election campaign.
Jessica Yellin, one of the standouts of CNN's presidential campaign coverage, becomes national political correspondent. In addition to The Situation Room, Campbell Brown: No Bias, No Bull and John King's Sunday block, Yellin will file daily reports for CNN's prime-time programming analyzing the most important stories on politics, policy and culture.
Jill Dougherty is named foreign affairs correspondent. Dougherty, who covered the Clinton White House for CNN and then served as Moscow bureau chief and correspondent and managing editor for Asia/Pacific based in Hong Kong, will track Secretary of State nominee Hillary Clinton's stewardship of American foreign policy.
Correspondent Chris Lawrence, a veteran of the Navy Reserve who has spent four years as a general assignment correspondent in CNN's Chicago and Los Angeles bureaus, becomes a Pentagon correspondent.
Zain Verjee becomes news anchor for The Situation Room and will also file special reports for the program. While serving as CNN's State Department correspondent for the past two years, Verjee traveled with Secretary of State Condoleezza Rice to more than a dozen countries, including Israel, Libya, Russia and South Korea. She also covered the violent conflicts in Kenya, her native country.