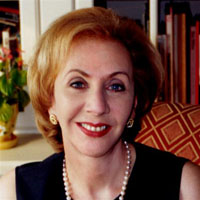 Myrna Blyth, the former editor of Ladies Home Journal and self-described 'only republican in women's publishing' has been named editor-in-chief of something called Betty Confidential—a site which describes itself as "Your Best Friend. Only Better"—according to a release.
Ms. Blyth maintains a blog called Blyth Times and writes a column for The National Review called Blyth Spirit. (Are you sensing a theme?)
Full release follows:
Palo Alto, CA, December 3, 2008. The Board of Directors of BettyConfidential.com is pleased to announce the appointment of Myrna Blyth as Editor-in-Chief of the Web site.
"We cannot imagine a stronger person to lead the editorial direction of BettyConfidential," said Deborah Perry Piscione, CEO of BettyConfidential.com. "There are few people in this world who know women better than Myrna Blyth." Myrna Blyth spent over twenty years as Editor-in-Chief and Publishing Director of Ladies' Home Journal and was the founding Editor-in-Chief and Publishing Director of More magazines. Earlier in her career she was Executive of Family Circle magazine. She has also written several books, all book club selections. She has been a contributor to many publications including The New Yorker, New York, Reader's Digest and Redbook as well as writing for several Web sites. She is the recipient of many awards including Ad Age's "Publishing Executive of the Year" and the Magazine Publishers Association's Henry Johnson Fisher Award, considered the magazine industry's highest honor. "I feel the internet is the most exciting area for women's media today," she said. "Betty Confidential, I believe, is optimized to be incredibly successful because it is developing such an appealing combination of features and social networking. "
About BettyConfidential.com
Launched in March 2008, BettyConfidential.com is already one of fastest- growing women's Web sites. It offers an interactive presentation of content, social networking, and advice in a "roomful of women" setting. Targeting women ages 18-49, "Betty" is a gathering place for entertainment, opinion, news and information on anything and everything women want to talk about. BettyConfidential.com was co-founded by bestselling author and television commentator Deborah Perry Piscione and Internet entrepreneur Shaun Marsh in March 2008. CNN's Soledad O'Brien serves as Chairman of the Advisory Board.