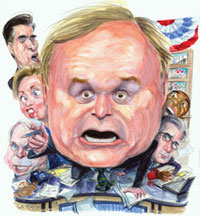 Today, in Politico, Michael Calderone and Josh Kraushaar provide the most in-depth story to date about the state of Chris Matthews' political ambitions.
From the article:
Chris Matthews is dead serious about running for the Senate in Pennsylvania — and is shopping for a house in the state and privately discussing quitting MSNBC as proof of his intense interest, according to NBC colleagues, political operatives and friends.
Even so, some NBC insiders think it's all simply a negotiating ploy to jack up his contract.
According to Politico, Mr. Matthews has recently taken to asking advisors about whether he should walk away from MSNBC before his contract runs out in the summer of 2009.
More from the report:
At one recent meeting, he was advised that if he truly intends to run, he should resign from the network as soon as possible.
'We talked about the value of doing this now and six months from now. I advocated that he do this as soon as possible,' the operative said. 'It's the MSNBC stuff that's going to jam him up. I said, "If you want to be a U.S. senator, step up and get into the race."'