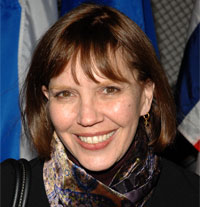 What does former New York Times reporter Judith Miller think of Nothing But the Truth. the movie partially inspired by her time spent in jail for refusing to name sources connected to the leaking of the identity of CIA agent Valerie Plame?
"It brought a lot of stuff back," Ms. Miller told The Times' Adam Liptak this weekend. "Parts of it were very disturbing to me."
Ms. Miller, who now works for Fox News, told Mr. Liptak that she had "nothing to do with the movie," but she did meet with Kate Beckinsale, who plays her sorta-kinda onscreen doppelgänger:
Ms. Beckinsale met Ms. Miller two summers ago for a lunch at the Century Association, a private club in Manhattan, arranged by Mr. Abrams. Ms. Beckinsale said that the lunch was pleasant but that Ms. Miller was wary. 'I know she was very gun shy about a movie being made at all,' Ms. Beckinsale said.
The two women talked about Ms. Miller's time in jail, and Ms. Beckinsale said she came away admiring Ms. Miller's toughness and energy. Ms. Miller, for her part, had nothing but praise for Ms. Beckinsale: 'She's very talented, obviously, in addition to being gorgeous.'
While she drew inspiration from Ms. Miller, according to Mr. Liptak, Ms. Beckinsale did most of her research on the news business by spending time with reporters from The Los Angeles Times.