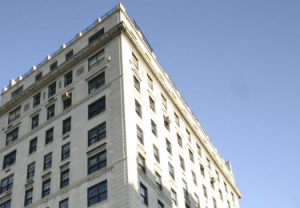 For Upper East Siders, the genuinely terrifying fact about the housing market isn't that one in 10 American home mortgages are now in distress, but that the city's daily massive co-op and condo and townhouse deals have seemingly been put entirely on hold. The townhouses at 1016 Madison and 22 East 71st Street listed for $75 million each? Both unsold. The $64 million mansion at 18 East 64th? Unsold. The $51 million duplex penthouse at Trump Park Avenue? Still unsold. The $50 million duplex at the Pierre? Not sold either.
But according to a deed filed this morning, something incredible happened last Wednesday: John A. Griffin, who had been billionaire Julian Robertson's right-hand man before he left to start his own hedge fund, Blue Ridge Capital, and his wife, Amy, have paid $32.25 million for a 10th-floor co-op at 1030 Fifth Avenue (pictured). The place hadn't even been on the market.
According to a wedding announcement, Ms. Griffin, 12 years her husband's junior, is the daughter of the owner of an Texas convenience store/car washing/lubrication center/restaurant chain called Toot'n Totum. The couple's sellers are Richard Schmeelk, a private equity executive, and his wife, Priscilla. No mortgages were filed in public records, which means this was almost certainly an all-cash deal.
If private equity executives keep selling their Fifth Avenue co-ops to hedge fund executives willing to pay $30 million-plus, maybe New York will be alright after all?
More on the deal coming in the Manhattan Transfers column of this week's Observer.