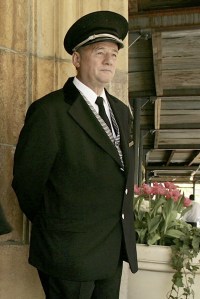 Recently, both The New York Times and The Wall Street Journal have reported on The Help. Apparently on the Upper Sides of Manhattan, both West and East, nannies, dogwalkers, and housekeepers have been laid off to leave room in household budgets for things like Botox.
Now, it seems that the maintenance staff at upscale doorman buildings is also suffering the consequences of the residents' preliminary economic fears for the new year.
According to Page Six Magazine, the doormen and supers are being tipped decidedly less this year. But unlike the helpless nannies and housekeepers who couldn't do anything about being newly jobless, the doormen, for whom holiday tips account for about 10 percent of their annual salaries, have a plan.
At one Upper West Side building, where staff have not been given their end-of-year tips yet, the building's management has set up a Web site with headshots and short bios of each doorman, elevator operator, concierge and porter employed by the building, presumably to put human faces on the consequences of self-serving "frugality." A letter asking the residents to visit the Web site was hand-delivered to their doors.
At other buildings, the doormen have begun openly keeping a tally of who gives what–jotting down numbers as soon as they receive an envelope and right in front of the resident who's delivered it–perhaps as a form of negative reinforcement. (Those yet to put an envelope together should beware, seems to be the message.)
But other doormen that have already been given a measly $20 tip are plotting revenge. While the very good tippers ($200 or above) might get services from their doormen such as moving parked cars to avoid tickets, fixing TV's, taking tenants' dogs for walks, and being discreet about certain types of late-night visitors, the poor tippers will receive a different kind of treatment.
"Let's say you pull up in a cab with a bunch of packages. Maybe I'll just happen to be on the phone," said an unnamed doorman of a building on Park Avenue and 55th Street.