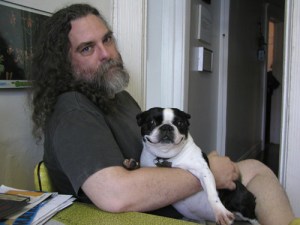 Artist Nayland Blake looks like one of the tour roadies for the Allman Brothers circa 1970. Blake is tall, and he's built like a slab. His arms are tattooed. His hair is long.
In art, he's harder to size up. Blake, who shows at the well-bred Mathew Marks Gallery and teaches at Bard, is responsible for a rangy and elliptical body of drawing, sculpture, and video-based performance pieces that raise issues of race and sexuality. ('Raise' is one of those words one is forced to use in the company of art that, like Blake's, causes circuitry jams in the brain – what is that?)
Blake is probably best known for the videos, a series of sweat and flesh provocations. At least I think so. In "Starting Over" (2000), the artist, dressed in a rabbit suit, tap dances until he collapses. In "Gorge," a shirtless, seated Blake is fed gut-busting amounts of food by an African-American man, also shirtless. It may help to know that the artist – who is half-black, half-white – is a gay man. It may not.
The artist's most recent show at Mathew Marks last February was more subdued: a mournful collection of drawings and sculptures the artist made at a rate of one per day following the death of his partner and collaborator of 11 years, Philip Horwitz, in 2005.
Blake is now the subject of a survey, Nayland Blake: Behavior, at Location One (26 Greene Street, 212-334-3347) that opened last night and runs until February 15. The show covers the artist's career as a painter and sculptor.