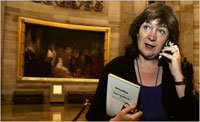 The New York Times correspondent Robin Toner has died at age 54, according to a Times obituary by Todd S. Purdum.
Mr. Purdum writes that Ms. Toner was "the first woman to be the national political correspondent" for the paper:
In a career of nearly 25 years at
The Times
, and in an age of increasing specialization, Ms. Toner reported authoritatively on almost every domestic issue, whether it was taxes, welfare, Social Security, immigration or health-care policy.
And in a craft in which small errors are commonplace and bigger mistakes a regular occupational hazard, Ms. Toner devised a meticulous personal method for checking and re-checking names, dates, facts and figures in her own raw copy, a step few reporters take. As a result: only half a dozen published corrections over the years, on more than 1,900 articles with her byline.
On his Atlantic-hosted blog, Jeffrey Goldberg offers some memories of his friend, calling her "one of the best reporters in Washington, and also one of the best mothers in Washington… Robin was a genius of reporting, in fact; she almost never got anything wrong, she understood almost everything, and she knew almost everybody."