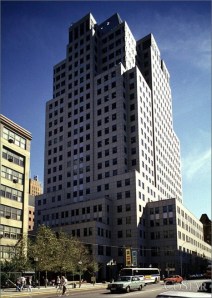 Rupert Murdoch will consolidate some of the offices of his weekly newspaper chain into one 18,000-square-foot space in Bruce Ratner's One Metrotech Center, the 24-story Class A building at 70 Myrtle Avenue, according to an annoucement released this morning.
The group of newspapers, called, appropriately enough, the Community Newspaper Group, includes the Bronx Times Reporter, as well as two chains — TimesLedger and Courier-Life — that Mr. Murdoch bought in 2006 for a rumored $16 million.
According to a New York Times article from 2006:
TimesLedger publishes 16 weekly newspapers in Queens with a total circulation of 50,000, including The Flushing Times, Astoria Times and Glen Oaks Ledger, according to the News Corporation. Courier-Life publishes 11 Brooklyn newspapers with a total circulation of 90,000, including Bay News, Brooklyn Heights Courier and Flatbush Life, the company said. Courier-Life also publishes Caribbean Life, which has a circulation of 105,000 across the five boroughs and Westchester and Nassau Counties.
The full release is below:
BROOKLYN, NEW YORK – Monday, December 8, 2008—Forest City Ratner Companies (FCRC) announced that CNG, the Community Newspaper Group, New York City's largest group of neighborhood newspapers with 30 publications, has signed a lease for 18,000 square feet on the 10th floor at One MetroTech Center in Downtown Brooklyn. The move by CNG, along with the recent relocations to MetroTech Center of El Diario La Prensa, the city's largest Spanish Language newspaper and UniWorld, a leading multi-cultural ad agency, is transforming Downtown Brooklyn into a burgeoning center for media.
The CNG, which includes the Bronx Times Reporter; TimesLedger Newspapers in Queens which publishes 14 weeklies; and Courier-Life Publications which is the city's largest chain of weeklies, is owned by Rupert Murdoch's company News Corporation. CNG also produces a news-based website, www.yournabe.com, that covers 152 neighborhoods in the three boroughs. Previously scattered in offices in Queens, Brooklyn and the Bronx, CNG will move all of its 125 employees to the new headquarters in MetroTech Center. Courier-Life Publications has been serving Brooklyn for nearly 60 years; the Bronx Times has served the borough for over 25 years; and the TimesLedger Group in Queens has won dozens of state and national awards for editorial excellence in the last year alone.
Bruce Ratner, Chairman and CEO of FCRC said, "It is very gratifying that the Community Newspaper Group has chosen Downtown Brooklyn and MetroTech Center for its new headquarters. The neighborhood's strong appeal to media companies is a testament to its benefits, including good value, easy access to public transportation and a thriving retail sector with lots of shopping and restaurants."
Les Goodstein, SVP, News Corp, said, "We're looking forward to bringing our people together in a dynamic part of the city in a first rate building and office. Giving the papers the opportunity to work and collaborate with their peers from other publications will doubtless bring new creativity and synergies to the group as a whole, while allowing them to better serve the communities they report on."
FCRC was represented in the negotiations by Mary Ann Tighe, Tim Dempsey, Keith Caggiano, and Evan Haskell of CBRE.
Completed in 2005, MetroTech Center is a commercial, academic, and high-technology office complex in Downtown Brooklyn. Designed around a 3.3-acre landscaped commons, MetroTech Center includes 11 buildings. One MetroTech Center, a 23-story, 929,000-square foot building, was designed by Swanke Hayden Connell.
About Forest City Ratner
Forest City Ratner Companies (FCRC), a wholly owned subsidiary of Forest City Enterprises, owns and operates 32 properties in the New York metropolitan area. Forest City Enterprises, Inc., a $10.9-billion NYSE-listed national real estate company, is principally engaged in the ownership, development, management and acquisition of commercial and residential real estate and land throughout the United States.