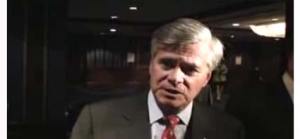 There's no firm word yet about what will be on the table when the still-Republican-controlled State Senate convenes Monday, but the session will most likely have no legal effect anyway.
A Democratic Senate leadership source claims to have heard that the chamber will be acting only on a non-binding resolution which may give clues on what the chamber's posture will be toward David Paterson's 2009 budget proposal next week, but will have no effect.
Even if the chamber passes bills as opposed to resolutions, they will not become law. Bryan Franke, a spokesman for Assembly Speaker Sheldon Silver, said that chamber will not be in session next week. It would have to pass carbon copies of any legislation before the end of the year, and a return during the holiday season is unlikely.
Mark Hansen, a spokesman for Senate Majority Leader Dean Skelos, said the agenda was still being formulated, but bills could be formally introduced by midnight tonight and still "age" the necessary three days to be considered Monday. As of this writing, the only bill introduced today related to the Schenectady School District.