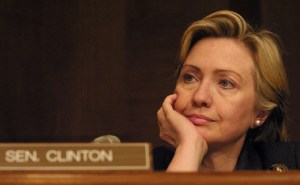 Hillary Clinton's first words after Barack Obama officially announced her as his designated secretary of state at a Dec. 1 press conference included a grateful goodbye to New York and the Senate.
"I also want to thank my fellow New Yorkers who have for eight years given me the joy of a job I love with the opportunity to work on issues I care about deeply in a state that I cherish," she said.
"Leaving the Senate," she added, "is very difficult for me."
Clinton's move will bring an abrupt end to her Senate career, and represents the departure from New York of its biggest political star. As far as personality and profile are concerned, the void the former first lady leaves behind dwarfs most of the local names – the Velazquezes and Gillibrands, if not Cuomos and Kennedys – commonly mentioned as possible replacements.
So how to assess her New York interlude? How was she as a senator?
She never ceased to attract a level of attention fitting of a political star. But in terms of accomplishments, her Senate career was more solid than stellar.
Clinton's colleagues in the New York delegation, political analysts, New York policy experts and even her own Senate office describe a tenure that was successful from a constituent-service standpoint, but — in contrast with predecessors like Patrick Moynihan and Bobby Kennedy — decidedly modest in scope and measurable impact on public policy.
In the end, she was an articulate parochialist and a successful acquirer of pork, a hardworking and attentive politician who ultimately exerted little influence in shaping the national discourse before essentially leaving the Senate for the presidential campaign trail.
"Senator Clinton was always responsive to constituents," former Senator Al D'Amato said, approvingly.
Known as Senator Pothole for his relentless attention to nuts-and-bolts constituent service, D'Amato said in an interview that Clinton did a lot to protect New York hospitals, help upstate communities, ("she worked very hard with the farming and milk industry,") and get transportation funding to make it easier for suburban New Yorkers to get to the East Side of Manhattan. Clinton's allies point out that the rules of seniority in the Senate, and the fact that she served the entirety of her eight years in Congress under a historically uncooperative Republican president, made it almost impossible for her to be a legislative powerhouse during her short tenure. Instead they cite her role in raking in federal money for New York after September 11 and her work acquiring federal aid for local economic development issues.
(A list of top accomplishments furnished by spokesman Philippe Reines included a program called "Farm to Fork.")
Colleagues talked about how she worked to get funding to improve highways and mass transit, fought the closure of military bases and brought foreign investment upstate. Nationally, she lent her voice — to modest effect — to the cause of greater health care coverage and extended unemployment insurance, and came out, more memorably, for authorizing the war in Iraq.
"When you write her Senate obituary, what do you put in there?" said one former aide to Clinton with a strong command of her Senate record. "And I guess it's upstate economic development, her Iraq war vote and her efforts on incremental health care."
As plainspoken Republican representative and sometime Clinton ally Pete King put it, "She got the job done day in and day out and that to me is the best mark of a senator. To me she was a solid senator."
Solid, without a doubt, is a good thing. But it's something quite different from the vertiginous expectations that awaited Clinton when she set her sights on the Senate seat vacated when Moynihan retired in 2000. She was a political giant, arguably the most influential first lady in the nation's history, and a prime mover behind the momentous (and disastrously managed) push for universal health care that dominated the early part of her husband's tenure. She was a player in Middle East peace efforts, and had given momentous speeches in Beijing about how women's rights were human rights and human rights were women's rights. She had authored a best-selling book, the title of which, "It Takes A Village," had entered the popular lexicon.
And she was going to make more history right here in New York as the first former first lady to serve as a United States senator, recruited by our elected Democrats and handed the nomination for a rare open seat.
That she didn't, and couldn't, live up to the hype once in office isn't an indictment. It's difficult to find officials or political professionals from either party who think Clinton was anything but a very good and highly competent senator. A quick study on both local minutiae and national issues, she demonstrated an impressive grasp of policy and worked well with colleagues from both parties.
And her lack of seniority was inarguably an impediment to great individual distinction. But it also seems very much the case that Clinton was restricted in the Senate by her ambitions for achievement elsewhere.