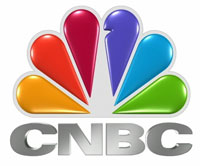 As we reported recently, CNBC is on the verge of making significant cuts.
And today, Broadcasting & Cable reports that the cable business news network will soon be losing one prominent staffer: Josh Howard, the vice president of the network's long form unit.
From the article:
Howard's contract expires next week and with cuts looming at CNBC, he declined to seek a new one.
His departure comes as the long form unit celebrates its third Emmy – and the third in CNBC's 19-year history – awarded Tuesday at the 6th annual business and financial news Emmys.
Howard came to CNBC three years ago after a lengthy career at CBS News came to an abrupt end over the 60 Minutes II report about President Bush's Vietnam era service in the Texas Air National Guard. Howard was the executive in charge of the segment. He was asked to resign along with senior staffers Betsy West and Mary Murphy.
In related news, Mediabistro's TV Newser is reporting that Donny Deutsch's The Big Idea has been shelved.