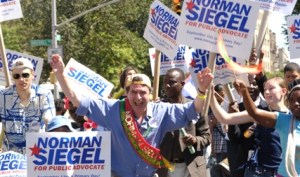 Norman Siegel, one of the recognizable names in next year's public advocate's race, said that if his third bid for the office is unsuccessful, he won't try again.
"I told my wife and we had a conversation, and this is it," Siegel said.. "That's why it's more important to me to get my message out." Siegel said he was letting supporters know that "If you want Norman Siegel to be your public advocate, if you want my kind of activism, social justice, change, this is it. If we don't do it this time, we're not going to have Norman Siegel as the public advocate. I'm clear on that. I'm getting a little older," he said.
(When asked how old, Siegel, who's never fully embraced retail politics, said, "The line I'm supposed to give is 'I'm younger than John McCain.'")
Siegel is having a birthday fund-raiser tonight at 6 p.m. at the Azza Restaurant and Lounge, at 137 East 55th Street. Expected guests there include State Senator Eric Adams, Hillary Clinton's 2006 Senate primary opponent Jonathan Tasini and Neighborhood Central Brooklyn Independent Democrats president Chris Owens.
In 2001, Siegel lost an open race for the seat to Betsy Gotbaum (156,832 votes to 105,985). In 2005, Siegel lost in a crowded race to Gotbaum again (192,727 votes to 120,819).
Other candidates for public advocate include City Council members Eric Gioia, Bill de Blasio and John Liu, Assemblyman Adam Clayton Powell and Republican Alex Zablocki. Candidates considering entering the race include City Councilwoman Jessica Lappin and the city immigrant affairs commissioner Guillermo Linares.