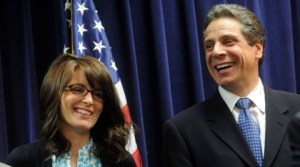 CORNING—Assembly Speaker Sheldon Silver has a sense of humor described as dry, at best, but he apparently got the crowd roaring yesterday when his Democratic conference convened in Brooklyn.
Silver had a secret plan to bring in 30 Rock star and Palin-impersonator Tina Fey, but was coy all day about who exactly was coming.
"When he did bring in the special guest, he said it was the first time he had ever brought in a Republican," said Assemblyman Mark Schroeder.
Some confusion ensued, then Fey emerged, and the audience got the joke. "He set the thing up perfectly, and as she walked in everybody got a big kick out of it," Schroeder said.
In addition to Fey–who Schroeder said was "outstanding"–the members heard from former Treasury Secretary Bob Rubin and other financial types who spoke about New York's looming deficit.
Schroeder said there didn't seem to be a movement toward reconvening the conference before the New Year, as the State Senate plans to do.