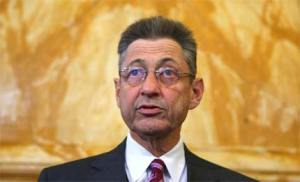 ALBANY—Sheldon Silver, a man of few enthusiasms, is particularly unenthusiastic about Caroline Kennedy.
"I don't know Caroline Kennedy," the speaker of the State Assembly said on WGDJ Talk 1300. "I had a phone conversation with her. She called and told me she was interested. I accepted that on her behalf. I have nothing against her."
He declined to say whether she was qualified for the post. (Voters are split on that issue).
"I haven't examined it in that fashion. I have two congresspeople who are vying for that position and I have a constituent who I know might be interested," Silver said, referring to representatives Jerrold Nadler and Carolyn Maloney and Attorney General Andrew Cuomo. He described them all as "hardworking, honest public servants."
He also said he has no doubt that Mayor Michael Bloomberg is pulling the strings for Kennedy. "I think the undercurrent would be, if I were the governor, to see that she's being promoted by the mayor and by his deputy mayor," Silver said. "If I were the governor, I would look and question if this is the appointment I would want to make, if her first obligation would be to the mayor of the City of New York rather than to the governor. But this doesn't go to the qualifications, these are the political issues."