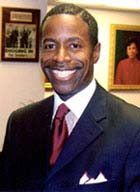 Malcolm Smith claimed to have the support of his conference as he emerged smiling from a meeting this morning of the 29 other Democratic members of his chamber.
"We will have 32 votes come January," Smith said, walking to his car after a speech to a conference sponsored by the Working Families Party. Several members of the conference were there, including Councilman and State Senator-elect Hiram Monserrate.
"Obviously there's still time," Monserrate said. (He did show, just a few minutes later than expected.)
Not every member was able to attend the meeting, but those not present in person attended by conference call, several attendees said. Those included State Senator Jeff Klein, who Smith spokesman Austin Shafran said "expressed strong support for the senator."
The three Democratic senators who have publicly criticized Smith did not attend. State Senator-elect Pedro Espada Jr. said last night that he would try to meet with members of the Democratic conference – sans Smith – early next week.
Smith also said that a memo published this morning with purported details about the now-defunct deal with the Gang of Three had been turned over to his counsel. No details on what that means.
Here's a video of what Smith would say: