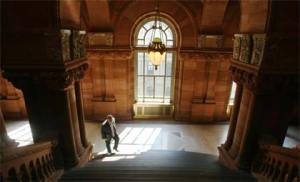 ALBANY—The meatiest part of the State Senate's special session was a one-house omnibus of economic development measures introduced Friday by Majority Leader Dean Skelos.
The bill calls for tax cuts for businesses as well as tax credits for job creation, and high tech investment. Another provision of the bill would provide low-interest student loans for New York residents attending college in the state.
"During these difficult economic times, people throughout the state are worried about keeping their jobs and their financial security – as we learned in the past, it is critically important that we do not raise taxes or make harmful decisions that will impede economic growth and further worsen the current economic condition," Senator Skelos said in a statement.
The bill passed the chamber by a vote of 47 44-14. The Senate also approved several appointments and, of course, collected per diems.
Updated from an earlier version to include a corrected vote tally.