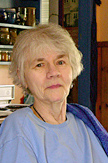 73-year-old poet Margaret Robison, who was controversially depicted as a negligent lunatic by her son Augusten Burroughs in the book Running With Scissors, has signed with Spiegel & Grau to write a memoir in which she'll tell "her own story her way," according to an announcement posted this morning to the Publishers Marketplace deal-wire.
The book, tentatively titled A Place to Come Home To, went out last week from agent David Kuhn and was sold to Spiegel & Grau in a pre-empt on Thursday, the day after the imprint was split from its home at Doubleday and attached to Random House's flagship division as part of a major company-wide reorganization.
The publicity department at Little Random followed the deal announcement on Publishers Marketplace with their own press release, which made note of the fact that Ms. Robison's book was Spiegel & Grau's first acquisition since moving divisions.
According to that press release, Ms. Robison "draws on years of journals and diaries" and "describes, in spare and moving words, the way she fought her way back from mental illness, near total paralysis and loss of speech to her present life in which she enjoys a hard-won ability to speak, write, and reflect on her journey."
Referring to Running With Scissors and Look Me in the Eye, the memoir written by Ms. Robison's other son, John Elder Robison, the press release from Random House says that Ms. Robison's book will add "a new dimension to the family portrait previously painted from the perspective of her two sons."