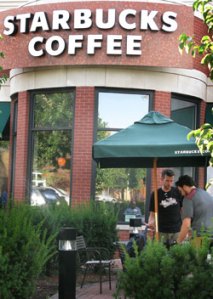 We've got a steaming mugful of good news for New York landlords and coffee junkies (and some bad news for Starbucks haters): The Seattle coffee concern is still expanding in New York City, economic maelstrom be damned.
"There are still opportunities to be profitable here, which is great news," said Dan Lewis, Starbucks' group marketing manager in the Northeast Atlantic region, who, in keeping with the firm's crunchy image, had just "inhaled" a veggie burger before chatting with us.
Mr. Lewis wouldn't say where Starbucks is looking to expand, or how many new city stores it's planning to open, but one of our favorite retail brokers tells us that, following a couple of quiet months, Starbucks is once again busy touring potential locations.
"They've inquired about properties in Manhattan, Brooklyn and Queens," said the broker, who professed himself "surprised" that the company was in expansion mode so soon after all of its "extreme announcements regarding pullbacks."
It was just last month that Starbucks reported that its net income dropped 97 percent. That isn't all that surprising: Common sense would seem to indicate that, given all the layoffs and ominous economic forecasts, patrons would be cutting back on the triple grande gingersnap lattes and the soy peppermint mocha twists.
And Starbucks is indeed pulling back in some places. Earlier this year, it announced the imminent closure of a handful of underperforming New York City locations. Mr. Lewis said those locations would be phased out slowly in 2009.
He also said that, believe it or not, there's still room to expand in the New York market.
"We just opened one at 58th and Sixth Avenue [in November], and another on 19th Street and Park Avenue is coming [in early 2009]," Mr. Lewis said. "We're always looking for great sites. Obviously, we're taking more of a fine-tuned approach. But, you know, in this market people are very big on quality coffee."
That's welcome tidings for city landlords, many of whom are having an increasingly difficult time finding tenants. "If landlords are going to consider this type of use in their buildings, Starbucks still remains the No. 1 choice," said the broker.
It's also a bit of a warning to those competitors—from Dunkin' Donuts to local operators—who were hoping to exploit Starbucks' apparent weakness.
drubinstein@observer.com