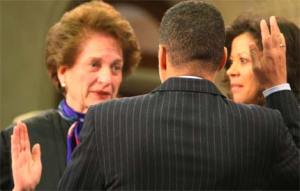 GENEVA—An organization of Latino lawyers is lining up against the Commission on Judicial Nomination's latest round of nominees for chief judge of the Court of Appeals, even as the state's largest group of lawyers stood behind the process and David Paterson, despite protesting the lack of diversity in the current list, appears ready to pick one from it.
"To say that our community is shocked and outraged by the lack of diversity in the Commission's recommendations is an understatement," wrote Maria Matos, president of the Puerto Rican Bar Association, in a letter jointly signed by her and heads of other groups representing Latino attorneys. They're urging Paterson to do "whatever is in your power to ensure that your commitment to a representative judiciary is realized and to reconstitute an open, transparent and accessible nomination process that will be a true merit selection model."
Paterson said when it was first released that he was unhappy with the list, but he's constitutionally obligated to adhere to it. The only way to force a new slate of nominees would be if the State Senate voted the nominee down. A number of elected officials in the Senate have echoed the governor's frustration.
Erin Duggan, a spokeswoman for Paterson, said: "For now, we're not going to speculate on what would happen if the Senate doesn't confirm the governor's nomination. He has always said that those selected are not in any way unqualified for the job, rather that the selection process needs transparency and obviously a review if they were unable to solicit a single female candidate for the list of seven."
From a legal standpoint, many observers have said the list contains several talented people to choose from.
"It's a stellar list of candidates," said Bernice Leber, a partner at Arent Fox and president of the New York State Bar Association. "Any of these folks are very qualified. The fact is that the process has worked incredibly well. We currently have a four-to-three gender split on the Court of Appeals. I think that while there aren't any current nominees, the commission has a history of suggesting highly qualified women and minorities for the bench."
Leber did say, however, that the NYBA would study how to encourage an even broader group of applicants, such as changing the statutes guiding consideration.
"I think what it does boil down to is finding ways to improve and increase the pool," she said, adding that the NYBA will study and develop their own recommendations on how to do that. "Whether that should be in statute or not, I think will be something in our research and our study."
Stephen Younger, the nominating commission's counsel,John O'Mara, the commission's chairman, wrote in a statement to me: "of course, no process for selecting judges is perfect, and that includes the Commission's process. We welcome the opportunity to work with the Governor to analyze the process by which the Commission selects candidates. However, it is imperative that the Commission maintain its independence in order to ensure that the merit selection process works properly toward our common goal of ensuring that nominees to the New York Court of Appeals continue to be talented and intelligent individuals that reflect the best of New York's esteemed legal community."
CORRECTED FROM AN EARLIER VERSION