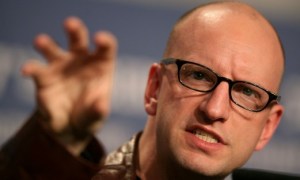 As we anxiously await the release of Steven Soderbergh's Che–the four-hour epic begins a limited one week engagement at the Ziegfield starting on December 12th before coming back around in January–isn't it time we got an update on the craziest/awesomest project that the director has ever come up with? Of course we're talking about Cleo, the 3-D musical that Mr. Soderbergh is planning about Cleopatra, featuring songs by Guided by Voices and hopefully starring Catherine Zeta-Jones in the title role and Hugh Jackman as Marc Antony. Thanks to MTV, we've gotten more detailsabout the film, which Mr. Soderbergh says he's "totally psyched" to do.
For starters, he's actually going to make Cleo--shooting is scheduled to start sometime in April. In the world of Hollywood, where directors like Martin Scorsese pile up projects without ever actually getting to them, this is a bit of good news. As for the film, according to Mr. Soderbergh, he's already found his Julius Caesar: Sexy Beast's Ray Winstone is on-board in the role, joining Ms. Zeta-Jones and hopefully Mr. Jackman (Mr. Soderbergh said he's waiting by the phone to hear confirmation from the Australia star). Of the script, which former Guided by Voices member James Greer wrote in six weeks, Mr. Soderbergh says: "It's like an Elvis musical in a way. It's not serious. I mean it's historically pretty accurate but its sort of like Viva Las Vegas meets Tommy." Umm, awesome.
While we aren't the biggest fans of musicals, this film sounds positively amazing. We just love the idea of Mr. Soderbergh putting his own spin on yet another genre from the 60s and 70s. He's done the Rat Pack film (the Ocean's movies); he's done the Norma Rae female empowerment film (Erin Brockovich); he's even done the Michael Cimino/Terrence Malick film (Traffic, the aforementioned Che). Now he's gone Elvis… in 3-D! We guess this means our dream Steven Soderbergh project, a remake of It's a Mad Mad Mad Mad World starring every living former and current Saturday Night Live cast member, is that much closer to being a reality.