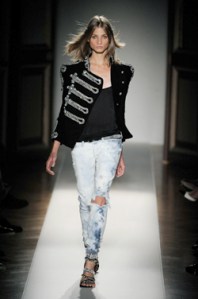 In recent years, we've endured the resurrection of many 1980s staples, including skinny jeans, leggings, drop-crotch MC Hammer pants, Wayfarer sunglasses, cocaine and Andrew McCarthy.
So why did it take us so long to haul out the shoulder pads? Controversial linchpin of '80s dressing, they conjure memories of Dynasty and Janet Jackson's Rhythm Nation, of teased bangs and pinstriped power suits. In other words, not the era's brightest moments.
Yet modern runways have begun to resemble surrealist marching band practices, dominated as they are by massive "structured" shoulders accessorized by tassels, fur and—at Maison Martin Margiela in September—blond wigs. 
Shoulders first began swelling about two years ago at avant-garde shows like Gareth Pugh, Vivienne Westwood and Balenciaga. They have since been seen at Louis Vuitton, Balmain, Dolce & Gabbana, Lanvin and Marni, among others, becoming (slightly) more commercial along the way. The moment was calcified when dewy young downtown designer du jour Alexander Wang sent "boyfriend jackets"—thin, shoulder-padded blazers that hang away from the frame—down the runway for fall 2008.
"We've seen structure coming back," said Ann Watson, vice president and fashion director at Henri Bendel. "Customers that are fashion-savvy, they're aware of it, but it's going to take a while to trickle down. When you go to the shows, all the editors have certainly adopted it. And it gets out there vis-à-vis the fashion magazines."
Currently, Bendel is awaiting shipment of two Balmain tuxedo jackets with shoulder pads, "one is über-exaggerated, and one much more tamed-down," said Ms. Watson. The department store also plans to bring back detachable "lingerie piece" shoulder pads, like the ones Norma Kamali made way back when, as a sensible option for the recession. "We're looking at a couple right now," Ms. Watson said, adding that she "didn't walk out the door without them" in the '80s.
At the Margiela store on Greenwich Street, meanwhile, the pointy, Jetsons-like shoulders that flooded the designer's spring 2009 runway were not in evidence one recent afternoon, even among early spring shipments, though a strikingly handsome iteration of Yves Saint Laurent's black Le Smoking jacket ($1,295) did feature modest shoulder padding.
But then, there it was, encased in glass toward the back of this whitewashed, aggressively bellwether retail emporium: a coat featuring cartoonishly boxy shoulders made of long, blond hair. (On the runway, the coat was worn by a model with what looked to be pantyhose obscuring her face.) The price was $11,795, a sales associate said. "They're special, one-of-a-kind pieces."
An equally extreme futuristic-superhero style of shoulder has also been making the rounds of late. "It's a real fashion-forward look," said stylist Jennifer Hitzges, who has worked for celebrities like Natalie Portman, Jessica Biel and Anne Hathaway, "and I don't think you'll see that in everyday silhouettes, but you do see it on musicians like Beyoncé."
For Marie Claire's September issue, Ms. Hitzges styled a shoot featuring "a MaxMara jacket that was sleeveless blazer, basically where the sleeve would be, there's a rolled, defined shoulder pad, more of a pagoda effect to it, a little '30s, '40s in feeling."
Which serves as a potent reminder that though shoulder pads achieved infamy in the '80s, ushered to ubiquity by women's burgeoning workplace ambitions (and then spreading, rather unfortunately, to their weekend sweaters), they actually far predate this regrettable decade.
"If you look at old movies with [stylist] Adrian and Joan Crawford from the '40s, the '40s is when they made a tremendous impact," said George Simonton, a professor at the Fashion Institute of Technology and a designer himself.
In that decade, of course, women were armoring themselves for wartime toil. So it made sense that we donned the shoulder pad again 40 years later as our inner Working Girl emerged.
But now that women have infiltrated the highest echelons of most professions, what need have we to approximate linebacker-like shoulders? Could it actually be to highlight our delicacy?
"When a woman puts a little bit of a shoulder pad—and I do it myself—it is so flattering to the body, because it makes everything look very narrow," enthused Mr. Simonton. "You can't believe the world of difference it makes for the figure, especially if a woman doesn't take care of her figure. She's going to look like an unmade bed if she doesn't get something more tailored!"
Perhaps shoulder pads are an inevitable component of fall's much-discussed return to tailoring, then, wherein we shoved off our voluminous baby-doll dresses en masse and begin dressing once again like we actually have day jobs (the irony being that many of us no longer do), in neat suit jacket with pencil skirt.
Or maybe it's not about gender relations after all, but commerce.  "To make women buy," Mr. Simonton said, "you've got to change the silhouette."
mbryan@observer.com