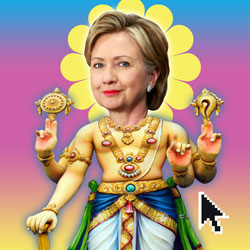 Hillary Clinton: powerful, reliable, classic. These are the ideas that Ms. Clinton seems to want to convey about herself with her Facebook (META) profile picture. In the black-and-white headshot, she's looking off to her right, and all of her signature attributes are there: Big smile, pearl necklace, American flag pin. This picture presents the ur-Hillary. She had changed her photo briefly last March—during the Texas, Ohio, Rhode Island and Vermont Democratic primaries that would make or break her presidential campaign—to a snap from a February rally in El Paso, Texas, in which she towered in her tan suit, looking unbeatable; red, white and blue confetti rained around her. This was Hillary as Patriot, a winner. Four days later, just after those contests were finished, she went back to the quieter photo. Hillary as gracious.
Why the need to change her image, if even for a few days? For many casual users of social networks like Facebook, Flickr and Twitter, it's mostly fun and games. Profile pictures—or avatars, in online parlance—show people at our thinnest, handsomest, most fun (some call these our best "MySpace angles"). But increasingly—as more than half the country use social media regularly, according to marketing research firm IDC—the entertainment value of these sites is segueing into something more serious; social networks can help snag a job interview, a date or even the No. 1 spot in the Oval Office. And as the sites get more important in our professional lives, so does the avatar. It's the image that sums up who we are online.
The word "avatar" comes from the Sanskrit word avatra, meaning "descent," which became "an embodiment, or object of worship," as Aaron Britt reported in The New York Times Magazine. "Avatar" was ushered into the modern lexicon through Second Life, an online virtual world, where players create an digital version of themselves and live out fantasy lives. But avatars aren't just for games anymore (though it's fun to assemble a goofy version of yourself for Wii Bowling!). Our online images and real-life personalities are melding.
Do we put enough thought into our avatars? Shouldn't we think twice before using that photo of us boozing it up at the company Christmas party? Does it make us seem insecure if we post this other one of us with our arm around a celebrity? What about a cartoon representation of ourselves using one of those online avatar generators ("Make yourself into a South Park character!")? Or the logo for our favorite sports team? Can we use Barack Obama? Or how about not posting a photo at all, and just leaving the generic question mark of Facebook?
Believe it or not, there's some science behind choosing an avatar. Or, at least, there should be.
"In the age of spamming, the profile picture gives you credibility," said Whitney Hess, a user-experience designer who often blogs about social media's impact on the human experience on her blog, Pleasure and Pain, in a phone interview with The Observer last week. "It shows people that you're real."
In other words, having an online image makes people feel more comfortable communicating with you. Even celebrities and politicians are catching on.
Ms. Clinton uses her black-and-white portrait on her Facebook, Twitter and personal campaign site. Barack Obama uses his campaign logo on Twitter and a photo of himself on Facebook (professional and personal). Shaquille O'Neal is growling and gripping a basketball with his giant hands in his Twitter avatar (he's fun!). MSNBC's Rachel Maddow uses her official headshot as her Twitter profile picture (she's serious). Juno script-writer Diablo Cody's Twitter pic has her looking posed in a director's chair, dressed in a green, furry jacket with a computer on her lap (she's successful and funky!). Dave Matthews, lead singer of the jam band, opts not to have a picture of himself on Twitter and instead uses a shot of an abstract, red light dragged across a black background (he's broody).
Most of these avatars work because they convey information about the people they represent. Mr. Matthews' avatar, however, is not such a good idea, according to Gary Vaynerchuk, wine guru for Winelibrary TV, Internet celebrity and expert in personal branding. "A lot of people will put a logo of their favorite team or Britney Spears or their favorite food or color," Mr. Vaynerchuck told The Observer Monday morning by phone. "But it should be your name or your initials or your face. It builds awareness. It's a billboard that people see all day."