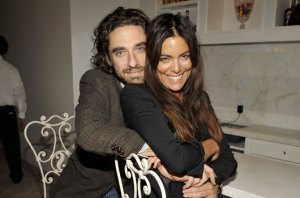 A few Saturdays ago, when Luke and Julie Janklow finally pulled down the masking paper from windows of their new restaurant Sweetiepie and unveiled its singular, almost fantastical interior—among other things, there is a human-size gold birdcage up front—passersby along Greenwich Avenue stopped in their tracks.
"It was like a scene out of Close Encounters," said Mr. Janklow to an editor from W magazine who happened to be dining at Sweetiepie last Tuesday. The bubbly new patron had dropped by his host's table to compliment the food and mention all the attention the place was getting. "Seriously, I'm not even kidding, there was a crowd of like 50 people looking in here!"
"Now I have to ask, what was wrong with your sundae?" Mr. Janklow asked. The magazine editor explained that there had been a mix-up —he had wanted only vanilla, not no vanilla. However his roast chicken had been to die for, and he loved the décor.
The restaurant has white marble-lined floors; a long, custom-made, '70s-style red leather banquet; a mirrored ceiling. The focus is a low-slung wide bar with white and pink stools. Mr. Janklow says the bar is his homage to the famous coffee shop at the Beverly Hills Hotel.
"Who's back there, may I ask?" said the W editor, gesturing toward the kitchen. Back there was Humberto Guallpa, 30, of Ecuador, who has run kitchens for Mario Batali, among others. He and Mr. Janklow are currently work-shopping a club sandwich.
"The only thing I said to him is, 'Look, you have to understand that in my eyes, you're a cook, you're not a chef,'" said Mr. Janklow. "And I mean that in the highest possible respect. It's all about the people who come here; this is not about you showing off and building architecturally impossible foods. It's about making the best grilled cheese sandwich in the world, the best chopped salad. And he totally got it."
The week before, Mr. Janklow had sent Mr. Guallpa on a 24-hour tasting tour of Los Angeles coffee shop cuisine. Mr. Janklow sees a sharp distinction between coffee shop and diner food. Sweetiepie offers a scoop of tuna in a tomato, candied bacon, pancakes, mini-burgers, an expensive steak and a cheaper steak. "We don't serve meatloaf and mashed potatoes here," he said. 
Previous to Sweetiepie, Mr. Janklow, 41, worked as a literary agent at his dad's shop, Janklow & Nesbit—he sold a lifestyle book by Gwyneth Paltrow earlier that day—and acted as a producer of films based on some of his authors' books. He also published essays on such topics as the merits of long hair on men.
"I feel like I'm in the storytelling business," he said. "I feel like Sweetiepie's a story, I feel books are stories obviously, movies are stories—I can find a story in anything. That's how I manage to keep it all going—and I write articles for Men's Vogue and whoever will have me, basically. So it's all storytelling in some capacity, but I do have four jobs. I'm hoping one of them will take off."
"Storytelling business" is a phrase he's probably heard tossed around since childhood. His father, Mort Janklow, founded Janklow & Nesbit, which represents authors such as Malcolm Gladwell, Al Gore and Michael Moore. His mother is Linda LeRoy Janklow, daughter of filmmaker Mervyn LeRoy, who produced The Wizard of Oz, and granddaughter of Harry Warner, who cofounded Warner Brothers. Then there's Luke's late uncle, restaurateur Warner LeRoy, who operated Tavern on the Green and the Russian Tea Room.  
Mr. Janklow grew up on Madison Avenue in what he likes to call "Woody Allen's New York." Instead of Chanel and Etro and Armani, the Upper East Side was dotted with personality: Lehman's Hardware, the local five and dime, a store called Lucidity that sold nothing but crap made out of Lucite. At age 9, the mighty Luke would set off on his own, skateboard in hand, to visit his favorite guitar shop downtown and on the way maybe drop by the Viand coffee shop on Madison and 61st for a cheeseburger from the friendly Greek guy. Last time Mr. Janklow checked, he was still working the grill! 
"It was much more fun and interesting, crazy and more flavorful," he said. "What's happened now, like with everything else in the world, it's become homogenized, it's become chains all over. There's a certain thirst for moneymaking—which we're all paying back for now—and you can just physically see it. It wasn't like that when I was a kid, it was much more mom and pop, there was a shoe store, a locksmith—it was more of a smaller scale, European-type town."