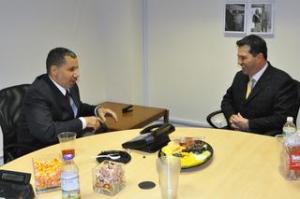 Here's David Paterson with John Tabacco, just one of the people co-chairing Paterson's fund-raiser tonight at the Marriott.
Tabacco is running in a crowded race for the City Council seat on Staten Island being vacated by Mike McMahon, who was elected to Congress last month.
Paterson – a liberal Democrat who represented Harlem for two decades – is a popular figure on conservative-leaning Staten Island these days.
The photo was provided by a reader supporting Tabacco.