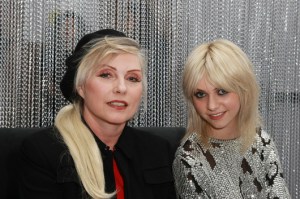 Last night, at the opening of The Annex, a SoHo satellite of Cleveland's Rock and Roll Hall of Fame, the Daily Transom found itself on the red carpet with Gossip Girl Taylor Momsen; later that evening, Debbie Harry of Blondie and Dave Mason from Traffic were to perform.
"Blondie like changed my life!" Ms. Momsen said, excitedly swaying back and forth at us. She was proudly wearing head-to-ankle vintage–a silver smock dress and gold bangles. Her shoes were something else, though–not vintage, she said, spinning around several times to find out exactly what they were. We noted that she looked a little Debbie-esque in general. She smiled.
Now: about Britney.
"I know! Her album comes out today! I haven't gotten it yet… But it's her birthday," Ms. Momsen said almost gravely. " I am definitely a Britney fan, I've grown up with her. Music's my first passion. She was kind of one of the first people that made me want to do that."
She added: "She had that cover of 'I Love Rock and Roll' and I was so obsessed with that song that I played it out, I wore it out. And my dad told me, 'Taylor, you have to hear the original' and then I became obsessed with Joan Jett and now it's taken on this whole…" She made circular motion with her hands. Then her publicist quickly whisked her away.