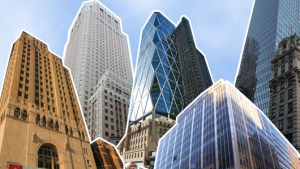 New York brokers blustered into 2008 declaring the commercial real estate market immune to the credit crisis that with tornado-like rapacity knocked down prices in the rest of the country. Lehman's aftermath cracked those rose-colored spectacles.
And all those fantastic leases and sales that titillated, that seemed ever on the verge of closure, turned out to be fantastic teases. Here, in no particular order, are the eight major deals of 2008 that never were.
NBC Universal
In May, NBC Universal announced the imminent creation of a business center outside of its 30 Rock headquarters. Brokers said the company wanted 600,000 square feet. Brokers fanned out across Manhattan. "They went through every fucking building that there was," one broker said. "They were clearly the most
conspicuous deal of 2008 that never happened."
Worldwide Plaza and 1540 Broadway
In September, the family-owned George Comfort & Sons was said to be closing in on these towers, detritus from the ruined Macklowe empire that ended up on Deutsche Bank's balance sheet. The deal was said to rely on NBC's putting its business center in Worldwide. That didn't happen. And then neither did the Comfort deal.
"The price kept coming down and down, the market kept going from bad to worse to horrific to abominable," said Eric Michael Anton of Eastern Consolidated. Nevertheless, sources close to the negotiations insist that a deal will be forthcoming, with at least one-half of the desultory duo selling by year's end.
452 Fifth Avenue
HSBC gave us a whopping two deals that never were. First, HSBC wanted to lease or sell its headquarters at 452 Fifth. And then it wanted to take a mega-chunk of space at Larry Silverstein's 7 World Trade Center. The failure of one plan meant the failure of both.
According to one investment broker, 452 Fifth, though lovely, was a "difficult sell." "It's sort of a mishmash," the broker said. "HSBC had for 20 years crafted it for its own use, so it's not so easy to re-craft for tenants, especially in a bad market."
250 West Street
In 2007, it was reported that El-Ad, of Plaza conversion notoriety, had sold 250 West Street to Coalco for about $200 million. When The Observer checked in with kindly Coalco New York president Mikhail Kurnev in August, he confirmed that the deal was still in the works, and he anticipated "closing in the next few months."
We hear the otherwise successful Mr. Kurnev has since been sent packing to Moscow. Neither Coalco nor El-Ad would comment for this story. But sources say Coalco wants its deposit back, El-Ad doesn't want to give it back, and that the two are now litigating.
Hearst Tower
This angular beauty can't find a ground-floor retail tenant, despite its icy good looks and more than two years on the market. Brokers blame the Hearst parents, who apparently want a higher-class tenant than the Eighth Avenue location will attract.
100 Church
In February, Newsweek was said to be taking 200,000 square feet at this downtown building, owned by the Sapir Organization. At the time, 600,000 of the building's 1.1 million square feet were vacant. And then Newsweek backed out.
Fast-track to December. That 600,000 square feet is still, by and large, vacant. Certainly, the recession is partly to blame. But word has it that the building's gaudy new lobby, with its more than 50 Swarovski crystal chandeliers, didn't help any.
One Hanson Place
Another glorious building sitting empty, now running on three years. Canyon-Johnson Urban Funds and the Dermot Company bought the Brooklyn building, once home to a town of dentists, in 2005, revamped it, and hired Newmark Knight Frank Retail to market the space.
This year, the developer fired Newmark and hired the retail group at Prudential Douglas Elliman, and still nothing. We imagine the old banking hall's landmarking—both interior and exterior—likely has something to do with it, along with the high price of the space, and, needless to say, the recession.
Orrick, Herrington
Orrick, Herrington & Sutcliffe was for months this close to taking up to 300,000 square feet at the Citigroup Center. And then, it wasn't. Reportedly, Orrick wanted to wait for rents to fall. The attorneys advised themselves wisely.
drubinstein@observer.com