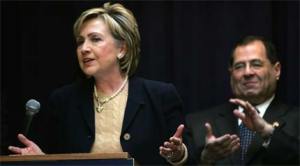 The chatter about replacing Hillary Clinton in the Senate has focused, on a largely speculative basis, on the likes of Andrew Cuomo (won statewide, can raise money, takes him out of 2010 run against the governor), Nydia Velazquez (a "twofer"), Tom Suozzi (helps Paterson with white Catholic voters) and Brian Higgins (he's from upstate!).
What about Jerry Nadler? (Hear me out.)
Here's Politico's Glenn Thrush on The Brian Lehrer Show yesterday.
"Well, I think intellectual bandwidth is important. I mean, this is Pat Moynihan's seat, and to a certain extent you always have that combination of pothole versus philosopher. And I think, you know, of the crop of candidates that we've talked about, you know, none of them quite fit that category, but people will tell you — even his opponents off the record — that Jerry Nadler, for whatever shortcomings he might have, is the most sort of Senatorial in his capacity to understand big-think issues. I think that is a consideration and it might get lost in the shuffle here."
The "capacity to understand big-think issues," as former Senator Pat Moynihan was able to do, or the idea of simply choosing someone based on merit, has been predictably overlooked so far in favor of the more easily quantifiable demographic and political qualifications of the prospective Clinton replacements. But candidates' qualifications are starting and come more into focus.