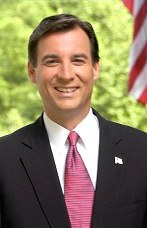 The array of powerful forces behind Caroline Kennedy has overshadowed other candidates to replace Hillary Clinton in the Senate, but a prominent supporter of Tom Suozzi isn't giving up hope.
"The indication that I have is that he is a very serious contender," said Jay Jacobs, the Nassau County Democratic Party Chairman. "Tom is one of the people the governor is looking at."
Jacobs laid out the case for Suozzi, the Nassau County executive who ran for governor against Eliot Spitzer in the Democratic primary in 2006.
Aside from his experience in government, Jacobs said that Suozzi offers Governor David Paterson political benefits, such as an ability to raise money, and strong support in the suburbs and upstate, where the governor is presumably most vulnerable.
Also, he said, "If Tom Suozzi is the senator, Pete King is out."
King, who at least one Democrat thinks could pose a serious challenge should Kennedy win Paterson's endorsement, has said that he is very interested in running.
"The entire strategy for Peter King to win is to do well upstate, not get beat too bad in the city and then have a slam dunk in the Island and suburbs," said Jacobs. "Suozzi beats him in the suburbs."