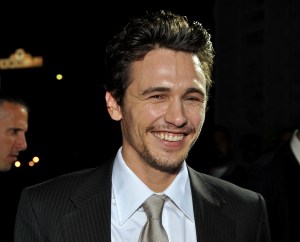 We always consider the Golden Globe awards ceremony to be a silly/fun excuse for the Hollywood elite to celebrate themselves and get drunk. Who knew that the Hollywood Foreign Press Association treats the nominating process the same way? As the motley crew of Rainn Wilson, Brooke Shields, Terrence Howard (still looking pissed at being left out of Iron Man 2) and Elizabeth Banks ticked off the "year's best" in television and film, there were some obvious choices–a co-leading five nominations each for The Curious Case of Benjamin Button, Frost/Nixon and Doubt–and more than a few head scratchers. For example, did The Weinstein Company head Harvey Weinstein employ some type of Rod Blagojevich pay-to-play tactics in getting the much maligned adaptation of The Reader four nominations, including Best Picture? We hope so! You can see the full list of nominees over at the Golden Globe website. In the meantime, here are some snap judgments.
Yay! James Franco scores a Best Actor in a Comedy nomination for Pineapple Express
While we had major problems with Pineapple Express–mostly because it wasn't particularly good–James Franco was a total revelation. Invested, funny and totally free as an actor, he stole the screen whenever he appeared. You can take his stilted and over-rated performance in Milk; we'll happily get in the dumpster and laugh along with Mr. Franco's immortal pot dealer. One quibble: this is really a supporting role, but whatever. We are talking about the Golden Globes after all.
Nay! Tom Cruise scores a Best Supporting Actor nomination for Tropic Thunder
Robert Downey, Jr. gets a well deserved nominated for Tropic Thunder and we cheer. Tom Cruise gets nominated for the same film and our jaws drop. It's not that Mr. Cruise was bad–he's actually quite funny and incredibly dirty (did you ever think you'd hear Tom Cruise utter the term "fuck stick"?) while doing a spin on his epic Magnolia performance. However this nomination is so clearly an attempt by the HFPA to get another major star to show up at the Globes that it makes us ill. Think of the deserving actors Mr. Cruise stole this nomination from: Josh Brolin (Milk), Michael Sheen (Frost/Nixon) and Michael Shannon (Revolutionary Road), to name three. But hey, he's Tom Cruise, right guys? We're surprised he didn't get another nomination for Valkryie.
Yay! Milk gets shutout from Best Picture, Director and Screenplay nominations
We liked Milk. But we didn't think it was one of the best movies of the year. We just never got emotionally invested in the story the way we had hoped (something which we blame director Gus Van Sant for). While everyone assumes Milk is a sure-fire, multiple Oscar nominated film, we see a movie that was left out in the cold at the Spirit Awards and now the Golden Globes. Critics love it (witness the Best Picture win Milk received from the New York Film Critics), but thus far, voters do not. If we were involved in the film, we might be getting a little worried.
Nay! The Dark Knight gets shutout from Best Picture, Director and Screenplay nominations
Speaking of a little worried… hello, Christopher Nolan! If The Dark Knight can't get a Best Picture nomination at the Golden Globes, when mediocre movies like In Bruges and Burn After Reading did, then what are Batman's chances for getting an Oscar? It's looking more and more like a posthumous win for Heath Ledger is all that The Dark Knight crew can expect on Oscar night.
The Golden Globes will be handed out on January 11th on NBC.