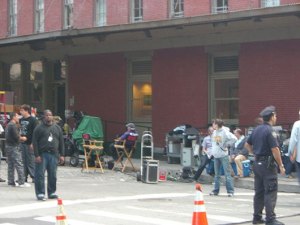 While New York often looks to California for innovative, environmental ideas, the movie-making business that is centered in Southern California is not known for being frugal or conscious of resource constraints. The creative process dominates, and entertainment is known for excess. "A lot of waste takes place on production sites," said Zahava Stroud, President and Co-Founder of iHollywood Forum, an industry group working to motivate the public to act more sustainably. The forum recently hosted Hollywood Goes Green, a conference to examine environmental issues facing the entertainment industry.
    
In this tough economic climate, the event was marketed as a way for senior media executives to operate with greater efficiency – and lower costs. That involves collaboration between business operations and technological solutions, such energy-saving server farms, video conferencing, which many companies are offering as an alternative to travel, and the use of electric cars or trucks that run on biodiesel, Stroud said.
According to the Southern California Environmental Report Card, a 2006 reported prepared by UCLA's Institute of the Environment, California's film and television industry accounts for roughly 8.4 million metric tons of carbon-dioxide equivalent, and its greenhouse gas emissions in Los Angeles are higher than the apparel, hotel and semiconductor sectors. Of course, Los Angeles is home to Hollywood, but the industry still relies heavily on transportation and energy consumption in its global operations.
After Al Gore released his global warming thriller An Inconvenient Truth, going green became the fashion for the stars in front of the camera, but Hollywood's behind the scenes players have been slower to embrace sustainability. One notable change occurred with the production of The Day After Tomorrow, a film about abrupt climate changes associated with global warming. As a promise not to contribute to that phenomenon, the director paid $200,000 to offset the carbon dioxide emissions created by the film's production.
Today's frugal industry figures may be less likely to fork over large sums of cash for environmentalism, so this year's iHollywood summit tackled innovative, cost-effective ways the industry can reduce waste during and after film production. "Everybody wants to save money in this climate," Stroud said, noting that people are less willing to invest in new, innovative technology when facing economic constraints. The goal is to promote the "tried and true" benefits that come with using environmentally friendly technology.
Central to that mission are "process" improvements during film development, production and distribution. According to Lauren Selman, chief executive of Reel Green Media, a consultant that helps movie and television sets operate more ecologically, studio lots have become more green, but fuel and energy consumption and waste generation on site are still issues that need tackling. Food is also central to the issue of excess, and iHollywood currently is working with the Los Angeles Food Bank to get leftover food out to the homeless rather than send it to landfills. "Hollywood is known for its waste and extravagance, and we're trying to change that image," Stroud said.
Also at work is the Environmental Media Association, whose members include Ed Begley Jr., Darryl Hannah, Norman Lear and Lara Dern. Leonardo DiCaprio, whose new eco-friendly apartment at RiverHouse on the Hudson has gold LEED-certification, is a board member of national environmental organization Global Green and currently is producing the Discovery Channel series Eco-Town.
"We believe that Hollywood can use its influence to raise environmental awareness, activate consumers to protect the environment, and incorporate eco-friendly practices in our daily operations," Beth Colleton, vice president of NBC Universal's "Green Is Universal" initiative, said in the run-up to the iHollywood event. Films and shows can include environmental messages, she noted, but people outside the industry also can create and deliver "green" messages through My Space and You Tube.
On the east coast, New York too has taken steps to promote eco-friendly entertainment. In mid-November Mayor Bloomberg teamed up with Green is Universal President Lauren Zalaznick for a "Green Screens" electronics recycling drive. Zalaznick explained her company's commitment to green entertainment in a press release from the Mayor's Office: "Green Screens is yet one more example of New York City's continued commitment to becoming an even more sustainable City.  We encourage New Yorkers to take the opportunity to learn more about the simple steps they can take everyday to live a greener lifestyle." Green is Universal aims to bring an environmental perspective to its networks, platforms and audiences by spreading information about how viewers can "green" their lifestyles. The New York City Mayor's Office of Film, Theatre and Broadcasting also provides environmentally friendly information on how New York City productions can save on energy and production costs.
The media can improve its business and profit performance by reducing waste. However, the obvious and more important impact of the media is as a role model. People pay attention to what celebrities do and the cause of environmental sustainability benefits from the free media that famous people generate. The greening of the film industry legitimizes the sustainability issue and makes it more mainstream. When the average person sees that "important" and "famous" people care about something, they start to wonder if they should care too.  Some of our more thoughtful film stars understand the impact of their fame and are eager to use that impact to do good.