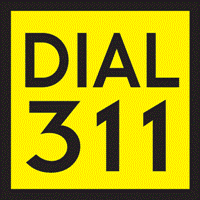 Calls about financial issues have increased at the city's 311 hub, according to its executive director, Joe Morrisroe, especially from people wondering where their property tax rebate check is or whether they will get one at all this year.
Operators have a standard answer from the Department of Consumer Affairs: "Due to budget constraints, the rebate checks will not be issued this year." If more information is needed, calls are then forwarded to the department itself.
A 311 operator last Thursday had just gotten off the phone with a woman whose landlord and his attorney were in her apartment threatening to evict her that night. The call was patched through to 911. Nearby, another operator was talking to a caller about readjusting a mortgage.
Since 311 was established in March 2003, the call center has become both a repository for citizen complaints and a window into New Yorkers' most pressing concerns. So it is not surprising that the recession has reached the cubicles at 59 Maiden Lane, which the Municipal Art Society arranged a tour of last week.
Mr. Morrisroe, the executive director, said that the call center has started looking at some shared services agreements with state agencies like the Port Authority of New York and New Jersey. Though 311 already handles a lot of these calls, the city's widening budget deficit has made finding alternative revenue sources imperative.
"The idea is that we've got the economies of scale built and in the past it wasn't necessary because times were plush," he said. "But now were looking at every way to do it."
MAYOR BLOOMBERG CAME UP with the idea for 311 on the campaign trail in 2001, when he came across a pile of uncollected trash next to a leaky fire hydrant. As the foundational myth goes, neither Mr. Bloomberg nor his staffers knew which government agency to call to fix the problem. Eventually, someone on the campaign figured out that such a complaint, rather counterintuitively, should be lodged with the agency that controls the city's water supply, the Department of Environmental Protection.
"The mayor's point was if I'm running for mayor and I don't know that, how is a regular citizen going to know that," Mr. Morrisroe said.
The number of annual callers has grown from 4.5 million in 2003 to 15.3 million in 2007. To date, 311 has received 73 million calls and gets an average of 42,500 daily. Regardless of whether the numbers are evidence of 311's effectiveness or New Yorkers' penchant for grumbling, the complaints mirror the issues on the minds of city residents.
"People might call to report a noisy neighbor, or a noisy neighbor's dog, which gets routed to a different city agency," Mr. Morrisroe said. "They call to report a dead animal—dead bird; a dead bird on the street; a dead bird on the highway; a dead bird on the harbor. They probably all get routed to a different agency."
Some callers just want to talk, but most often they want their neighbors to shut up: Noise, even in these more difficult financial times, remains, by far, the most common complaint. Between July 1 and Nov. 20, operators logged 135,589 noise complaints—2,058 of those came from Flatbush, which edged out Williamsburg by just three calls. One of the 450 operators at 311 determines which of the 23 categories a noise complaint falls into and then forwards it to the relevant agency depending on its source—the Department of Environmental Protection is responsible for silencing a barking dog, for instance, while the police would deal with music from a bar or restaurant.

About 45 percent of the calls are resolved by consulting a database of answers to 3,400 frequently asked questions as random as where to find a park in Manhattan that has a barbecue pit and a public restroom. Or, if a caller wanted to know how to get a tree in front of his window pruned, Mr. Morrisroe said by way of example, a 311 representative would be able say that the cycle for tree pruning last seven years, and, depending what stage of the process the tree's in, might file a service request with the Parks Department.
When a little boy called on Wednesday asking to speak to Santa Claus, an attendant consulted responses in the U.S. Postal Service category and was able to give him an address to mail a letter to.
About 30 percent of calls are transferred to other agencies. Service requests are filed in 10 percent of the complaints received daily; and the remaining calls are hang-ups, 911 transfers or questions outside the city's jurisdiction.
Even in those cases, 311 often has answers. The first day of the New York City Transit Strike on Jan. 17, 2006, remains the busiest day in 311's history, though most of the 241,000 callers had questions like "the TV said the strike was on. Is it?"
Questions about voter registration pushed call volumes to their second-highest peak ever in October, Mr. Morrisroe said. On Election Day and its eve, 125,000 people called to locate polling stations. Though this falls under the domain of the New York State Election Board, operators had answers on hand.
Some of the stranger requests that 311 operators have received over the years are outside the purview of any agency. "People have called wanting to know the lottery number. 'Can I write off my pets as dependents on my taxes?' How to boil a chicken."