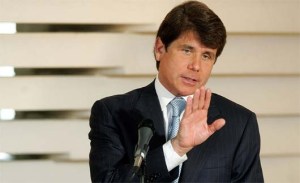 So, the Democratic governor of Illinois, Rod Blagojevich, has been arrested by the feds on corruption charges related to, of all things, the selection of Barack Obama's U.S. Senate successor.
This probably guarantees that the media will now run wild dissecting the president-elect's relationship with his home state's disgraced governor, several days of grief that Obama and his transition team could obviously do without. Not surprisingly, Obama's office is declining to comment on Blagojevich's arrest. In reality, though, Obama and Blagojevich have never been particularly close, so it's unlikely that this will have any long-term impact on the incoming president.
But it almost certainly marks the end of the peculiar political career of the 51-year-old Blagojevich, who just a few years ago fancied himself a rising national Democratic star and potential presidential contender.
Balgojevich owes his rise in Illinois politics to family connections – his father-in-law, longtime Chicago Alderman Richard Mell, eased him into the state legislature in 1992 – and a very fortuitous fluke in 1994.
That's when Dan Rostenkowski, the long-serving chairman of the House Ways and Means Committee, was indicted on mail fraud charges stemming from the House Post Office scandal. Maintaining his innocence, "Rosty" ran for re-election anyway in the Chicago's overwhelmingly Democratic 5th District, easily beating a batch of Democratic primary challenges. But the scandal, and stories of the congressman's imminent imprisonment, wouldn't go away, and in one of the all-time Illinois political shockers, an unknown 32-year-old Republican named Mike Flanagan edged out Rostenkowski in the November election – the only time in the last 40 years that a Republican has won in a Chicago-based district.
That cleared the way for the ambitious Blagojevich, again with his father-in-law's backing, to secure the Democratic nomination in 1996 and to score an easy fall victory over Flanagan, 64 to 36 percent. Locked into a safe House seat, Blagojevich then set his sights on statewide office and ran for governor in 2002. At the time, outgoing Republican Governor George Ryan (now in federal prison) was facing a wave of corruption charges. Blagojevich portrayed himself as a clean reformer and won handily. Within weeks of his victory, his aides began quietly telling the press to keep an eye on the new governor – that he had a national future. (In the meantime, his 5th District House seat, which was initially slated to be erased by redistricting, was kept intact at the insistence of Chicago Mayor Richard Daley, who wanted a congressional seat for his loyal ally, Rahm Emanuel.)
Blagojevich's national aspirations quickly proved to be a pipe dream. His rocky first term included a public falling out with his influential father-in-law over a landfill contract and rumors of corruption and investigations. By 2006 voters in strongly Democratic Illinois found Blagojevich so distasteful (and his flaky Republican challenger, Judy Baar Topinka, so unacceptable) that they handed the Green Party nominee more than 10 percent of the vote. (Blagojevich still won, with a very underwhelming 50 percent.) By this fall, Rasmussen Reports labeled him the least popular governor in the country.
Ironically, the opportunity to choose a new senator was initially seen as a rare opportunity for Blagojevich to score points with the public and to recoup some of his standing. Instead, it has landed him in federal custody.