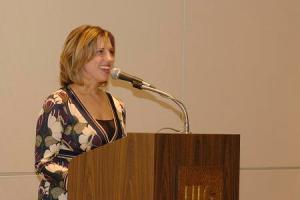 Democratic consultants are in demand.
In yet another indication of how the incoming of an Obama administration is dramatically shifting the political landscape in Washington D.C., the Republican consulting firm Navigators Global will announce later today that they have recruited Democratic consultant Tracy Sefl from the powerful Democratic firm Glover Park Group to give their new venture more credibility in a new Democratic universe.
Sefl, a senior adviser to Terry McAuliffe who worked as an adviser for Hillary Clinton's campaign, where she notably acted as a liaison to the Drudge Report, will be a senior vice president and the only Democrat on the communications team of Navigators Global. The firm has also folded in Democratic lobbyists from Roberti Associates, a group that consulted for the Democratic Congressional Campaign Committee and the Democratic Senatorial Campaign Committee during the 2006 and 2008 election cycles.
"They were smart about reading the writing on the wall," Sefl told me. "They recognized it was time to start thinking strategically about how Washington would change in the new climate."
Navigators, which was co-founded in 2003 by Republican strategist Mike Murphy and which includes Cesar Conda, a former a top economic advisor in the Bush Administration, will now cast itself as "Bipartisan Firm to Provide One-Stop Government Relations and Strategic Communications Consulting," according to a release.
They're not the only Republicans looking to stay relevant by adding Democratic consultants with ties to the new administration.
Asked if other Republican consultancies were looking to undergo similar retooling, Sefl said, "I'm told that it is happening," and added, "There may be other firms that have other things in the works."
"Some people may want to guess what Democrats are thinking," she said. "But others want to actually bring Democrats to the table."
Sefl said she had the full support of her colleagues at Glover, including Howard Wolfson, who was Hillary Clinton's communications director during the campaign and eventually worked as a chief strategist. Sefl's new crowd will include some personalities who are hardly favorites in Democratic circles, people with last names like Cheney.
"I'm not sure what our first conversation will be," said Sefl about working with Mary Cheney, the vice president's daughter. "But I'm sure that it will be positive."