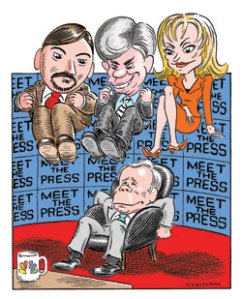 On the morning of Sunday, Nov. 30, David Gregory, NBC News' ubiquitous robo-anchor, popped up in front of the cameras at Rockefeller Plaza where over the course of several drizzly hours, he held forth on such topics as the dismal weather, Barry Manilow and the world's largest floating Christmas Tree, which turns out to be in located in Rio de Janeiro.
Mr. Gregory—NBC's chief White House correspondent, host of MSNBC's 6 p.m. show 1600 Pennsylvania Avenue, and the world's most indomitable substitute anchor—was filling in on Sunday for Lester Holt as co-anchor of Weekend Today.
But if Mr. Gregory has his way, as he often does at NBC, he will soon be spending his Sunday as moderator of Meet the Press.
Tom Brokaw had said he didn't plan to stretch his interim hosting duties through the December holidays; and the network had scheduled an interview with President-elect Barack Obama for the Sunday, Dec. 7 program. Surely NBC News chief Jeff Zucker would have completed his plan for the future of Washington's most important Sunday news program by then?
The conventional wisdom leading into Thanksgiving had been that the network was in the final stages of a bake-off between Meet the Press round table regulars Andrea Mitchell, NBC's chief foreign affairs correspondent; NBC political director Chuck Todd;  and Mr. Gregory.
Outside names were largely regarded as nonstarters: NBC is not in a financial position to enter into a bidding war.
But by Monday, internal betting was favoring Mr. Gregory.
"He's the one who has substituted on the show," one TV executive told The Observer over the Thanksgiving break. "He's the most logical choice."
Following a day of intense speculation inside the network about the future of the show, a report surfaced on the Huffington Post the evening of Dec. 1, citing no sources by name, declaring that Mr. Gregory had gotten the gig.
But inside the network uncertainty about what was going on continued through the following day. If the report was true, why wasn't it being announced? Were there contracts remaining to be signed? And if so, were there conditions still to be met? And if those were not to be met now, then when?
Steve Friedman, the former longtime television news producer and current president of Vir2L Media, said that NBC executives had made most logical choice. "There are no bad ideas in television," said Mr. Friedman. "There's only poor execution."
Mr. Friedman said there were a number of reasons to go with Mr. Gregory. "One: He's a pro," said Mr. Friedman. "Two: He's there. Three: In a time of financial problems at the networks, it makes a lot of sense to stay in-house and not go outside to hire somebody at big dollars that are added. And—four—as important as Meet the Press is from an image point of view, it really isn't a huge financial number."
Mr. Friedman pointed out that while NBC makes a profit on Meet the Press, and can charge advertisers a premium for the prestige of the show, it's still on only once a week for an hour. Compared to, say, Today, which is on for four hours a day, seven days week, Meet the Press has a smaller window of opportunity for gain and loss. "The difference between first and third, outside of ego, is not a big financial hit," said Mr. Friedman. "The difference between first and third might be five or six million a year."
Earlier this year, Noah Oppenheim, a seasoned producer who had worked with Mr. Gregory on Today, was tapped to help produce Mr. Gregory's show on MSNBC, Race for the White House. Mr. Oppenheim, who has since left MSNBC to become vice president of Reveille Entertainment (the production company started by Ben Silverman, now the head of NBC Universal entertainment), told The Observer on Monday night that, if true, Mr. Gregory would be a natural fit for Meet the Press.