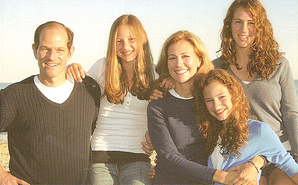 In December of 2006, the Spitzers sent out a holiday card to their friends and family that had a photo of the entire family on a beach somewhere.
At the time, Eliot Spitzer, who is wearing a v-neck sweater over a white t-shirt in the photo, was the governor-elect. Silda, his wife, surrounded by their three girls in the photo, was proudly waiting to for her husband to take office.
The back of the card read, "Not printed at government expense." Inside the greeting card was this: "Celebrate! With gratitude and best wishes, the Spitzers." The message is signed by Eliot, Silda, Elyssa, Sarabeth and Jenna.
Fast forward two years and a humiliating affair later, Silda is working for a hedge fund and Eliot, after being freed of charges brought against him, is penning a column for Slate. And so this year's greeting card that arrived in the mailboxes of the Spitzer family's collegaues and friends this December–and acquired by the Daily News from a Democratic elected official–had a different sort of message.
The photo, once again, shows the family on vacation somewhere warm. (The Daily News speculates that it was taken in Southeast Asia where the family traveled this past summer to get a break from the city.) 
The message inside the card is: 
"Hope…is not a thing heedlessly given to be crushed by the vicissitudes of experience; rather it is the unanticipated reward of struggle endured, a gift of grace." –Kathryn Walker
"Wishing you peace, hope and boundless love this holiday season and throughout the year." 
The Spitzers
Eliot, Silda, Elyssa, Sarabeth and Jenna 
Looks like this year's card required a little more thought and one less exclamation point.