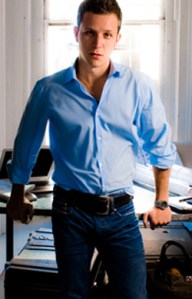 Jordan English Gross can usually tell within five minutes of meeting someone whether they've given up on their childhood dreams. "It usually just takes a short conversation," Mr. Gross said, sitting in a small conference room in the office of his new Web project, Dorthy.com, whose purpose is to enable people to "do their dreams," according to its slogan. "It's something we really look for in the people who work here," he said, meaning the retention of youthful hopes.
It was a snowy winter day and Mr. Gross, who is 27 and grew up between two cornfields in Sandyville, Ohio, was wearing a gray zip-up sweater, two diamond earrings, along with a second ring in his left ear, and a fancy watch. "Obsessed" with the gym, as he put it, he has a compact, fit build and boyish good looks, with two deep dimples. "I'm an all-American boy living the dream in New York City," he said.
On July 5, 2007, Mr. Gross flew here on a red-eye from Portland, Ore., where he'd been operating a successful marketing firm called TLM (short for The Love Makers), two weeks after deciding to co-find a new start-up company, called Saber Seven, in New York. Chris and Greg Coyne of the Coyne Group, a Florida-based network of venture capital, investment, property development and consulting firms, helped him raise $3 million for Saber's main venture, Dorthy.com. Mr. Gross rented an entire floor of an old apartment building on Stone Street, a cobblestone alleyway nestled between towering Wall Street skyscrapers, and renovated it into a space that would become part office, part dorm. He moved in with J. R. Heffelfinger, a videographer from Brooklyn who chronicles the company's every move; Sarah Doody, a friend from Portland and his director of product development; and his Jack Russell terrier, Diesel. Tom Luczak, lead technologist; Bryant Church, a JetBlue airline pilot and director of Saber Seven; and another team member, Anamaria Rajalas, would join the Real World–esque situation over the next few months.
During his first weekend in New York, Mr. Gross arrived home at 8 a.m. one morning and stuck a Post-It note to the front door that said "JMan Loves NYC." Once, when Ms. Doody went on a date at a bar, Ulysses, next door to their office, Mr. Gross and his videographer spied on her from the next table. After nights of drinking on the town, the entire group would brainstorm during the wee hours of the morning, writing with black marker on giant paper plastered on the walls. "The elevator opens directly into our house, which is also our office, creative center, party zone, war room, just about everything you can imagine center," Mr. Gross wrote in a post on his personal blog last year. "It is perfect—and the greatest experience I have ever had—the most creative of anything I have ever created."
But what exactly were they creating? Dorthy.com, which launched in beta form on Nov. 15, is a hybrid of news aggregator and social network, with "custom media channels" to help people achieve their dreams.
Here's how it works: Say you want to run a marathon. Usually, you'd go to Google and tap in a search for marathon running and end up with a bunch of links to sites, blogs and e-commerce destinations that may or may not be useful. Dorthy "filters and focuses" the Internet into your own "dream content" page. There will be up-to-date articles, blog posts and white papers with running tips and photos and videos of recent events. Oh, and brands like, say, Nike or Runner's World magazine might offer handy equipment suggestions as well!
You can also connect to other Dorthy users who have already run a marathon. With a click of a button you can "Make This Dream Mine," and integrate all their personal content (their blog posts, research, pictures and videos) into your page.You can list "Tasks" and have Dorthy.com text-message you at 6 a.m. to get up for that long training run. Mr. Gross plans to share some of the information about your activities on the site with brands ("nothing too personal," he promised) to help hyper-focus their marketing to the goldmine demographic of college-educated 26-to-36-year-olds with money to spend. Currently, about 30,000 users have signed up for a beta test.
Meanwhile, Saber Seven has grown to a bustling 22 employees, mostly engineers and tech-types. Everyone has moved out of the Stone Street space now—Mr. Gross now lives in a Chelsea apartment with a stunning view—and they've broken down some of the walls that once divided bedrooms, though the kitchen remains intact.
In the conference room, a little nook between the living room and an office, Mr. Gross was clicking a wireless keyboard, which changed digitized slides displayed on a flat-screen TV hanging on the wall. He reviewed the history of the site in business-speak: There will be an official launch by the "end of Q1" and profits by the end of "Q4, '09." It started this spring on Facebook (what doesn't these days?), with a family of applications including Dorthy's Dirty Secret, which allowed users to anonymously confess their secrets, and Dorthy's Dear Dorthy ("some questions are too big for your mom, your big brother, even your best friend. But dorthy – she's your girl – you can ask her anything").
Mr. Gross said he has yet to finalize deals with brands, but expects to have between 75 and 125 partnering companies by the end of 2009. Saber Seven's advisory board includes some tech superstars, including Jim Anderson, co-founder of About.com; Will Burrington, former senior vice president of AOL; and Marc Swersky, founder and president of WUG Music/Productions and Grammy-winning producer of the Bodyguard Soundtrack. Saber Seven is also building a charity foundation out of the product, giving 5 percent of Dorthy's profits to help people achieve their goals.
Dorthy.com is for dreamers, Mr. Gross said, but ones who are busy and focused, just like him. He started TLM when he was 22, after attending the University of Texas; the firm's clients included Coca-Cola, Sears, Starbucks, Motorola, Microsoft and Nike. In 2003, he became the youngest creative director to ever receive the National ADDY for Interactive Communication award.
When he started thinking about building Dorthy, he decided that New York was the best place to do it because he could build brand relationships on Madison Avenue. And "New York is the biggest dream maker of them all," he said.
The name comes from Dorothy Gale, the protagonist of The Wizard of Oz, who, as the Saber Seven "About" page puts it, "networked herself into a group of like-minded dreamers who like her were off to see the wizard." Mr. Gross said he dropped the second "o" in her name because people were spelling it incorrectly in emails anyway, and he thought it looked better when placed in typeface. "When naming the service I wanted the name of an everyday person and a well known dreamer from American literature or media," he wrote in an email. "Dorthy stood out to me the most."
Mr. Gross told a story of sitting in his grandparents' field, looking up at that big Midwestern sky, and thinking there was nothing he couldn't achieve.
 "I wanted to take people back to that childhood confidence," he said.
greagan@observer.com