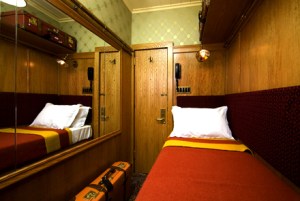 The affable maitre d' at the Waverly Inn stomped out to the curb on Wednesday night, Dec. 17, armed with pen and paper. He demanded to know, Who's leading this mob?
About a dozen plainly dressed protesters had lined up outside the fashionable West Village celebrity haunt rather inconveniently around dinner time, wielding placards blasting the trendy eatery's owners: "Graydon Carter's partner Sean MacPherson is a Slumlord!"
They were not complaining about a bad seating arrangement somewhere in the back of the see-and-be-seen destination.
The demonstrators were all tenants of the dowdy old Hotel Riverview, located a few blocks away at 113 Jane Street, and all struggling against the forces of change.
Last January, the five-story, 211-room William Boring-designed brick landmark hotel—which once sheltered survivors of the Titanic and has for years provided affordable, albeit far from gracious, accommodations, for down-and-out bohemians (around $200 per week!)—was sold for $27 million to a group of entrepreneurs more commonly associated with upscale properties.
Chief among them: the bicoastal hospitality impresario Mr. MacPherson, whose burgeoning portfolio includes not only the swank Waverly Inn and a number of restaurants in Los Angeles, but also the Bowery and Maritime hotels in Manhattan.
He and his partners quickly began the process of converting the shabby old rent-stabilized hotel into a hip hostel for thrifty tourists called the Jane. Just $99 a night, plus tax, for a 50-square-foot, nautical-themed cabin that rivals the size of the guest rooms in Guantánamo Bay, Cuba; communal bathrooms down the hall. Whatta bargain!
Holdovers from the Hotel Riverview era claim to be getting the raw end of the deal. Eviction notices began arriving in short order. At least 10 current tenants are now facing homelessness, according to the busy docket at housing court.
Those who remain describe insufferable living conditions throughout the ongoing reconstruction effort, citing rodents, bedbugs, heating and plumbing problems, including "broken water pipes which caused cascading waters to flood the bathrooms, feces and other bodily discharges on the bathroom floors," according to court papers.
Well-heeled patrons heading into the highfalutin Waverly Inn last Wednesday night were given a quick glimpse of what it's like to stroll down hallways of exposed wires, containers of chemicals strewn about and lewd drawings scrawled on the walls.
"You show them the pictures and they're horrified," said Patricia Oltremare, a fourth-floor Jane resident and president of the Jane Street Hotel Tenants Association, who was carrying around a book of photos documenting the as-yet-unfinished hotel conversion at its ugliest points over the past year.
The actor Hugh Jackman, among others, stopped to take a look. He offered sympathy for the tenants' plight but headed into the glitzy restaurant anyway.
It's just the sort of sucks-to-be-you response that hotel tenants are used to.
Ms. Oltremare, for one, refused to pay rent for months, given all the noise, dust and debris as well as the tearing down and rebuilding of walls in empty guests room and hallways. A housing court judge briefly reduced her rent bill as a result and even tacked on an additional discount: "For the occasional bedbug problem, I find that the respondent is entitled to $175 as an abatement."
That was back in September. At a meeting in her lawyer's office last week, Ms. Oltremare rolled up her right pant leg to reveal a series of red welts, which she described as fresh bites.
For months, Ms. Oltremare and her neighbors have complained about their living conditions to various city agencies, registering more than 100 grievances with the departments of Buildings and Housing alone, but with little result, save for a few minor code violations. (Housing court records show the city has charges pending against the hotel for its apparent failure to provide hot running water on two separate occasions this past October, with possible fines ranging from $250 to $1,000.)
In August, the city granted the developers an all-important Certificate of No Harassment, allowing the controversial hotel conversion project to proceed as planned.
WALKING INTO THE heavily potpourri-scented hallways of the hotel's partially finished floors this week, one is confronted with two starkly divergent cultures, marked by two different styles of doors—polished wooden doors with shiny brass handles for the transient newcomers, shabby gray doors for the clinging old-timers.
"Some of the female guests are appalled that there are male tenants running around in their underwear when they go to the bathrooms that everyone shares," Ms. Oltremare noted. "Remember, they are guests and this is our home, so many of the tenants have done this for years."
Yet, it seems blatantly obvious which group the new management prefers, she added; "They tell us, 'Shhhhh, there's guests.'"
Last week, aggrieved longtime dwellers decided to try a different tact, launching an aggressive media campaign with the help of publicist Ron Torossian and their lawyer, Edward Mermelstein, who is now suing both the hotel and the city on the tenants' behalf.
"How is it possible that [the hotel's owners] were able to obtain a Certificate of No Harassment when there were 15 affidavits sitting with the court-appointed attorney that apparently never made it into the record?" Mr. Mermelstein asked. "There was a clear history of harassment throughout this whole period before and after the certificate was issued."
A hearing on the case is scheduled for Jan. 9.
After months of living in what they described as a virtual demilitarized zone—"I had a better time in the Army!" joked one hotel resident in a faded leather jacket and skull-and-bones cap—tenants were thrilled to finally be the ones making all the racket.
"Basically, they've been abused in the press over the last year and they've been abused personally in this building for such a long time that they're getting excited that they can hit back a little bit," Mr. Mermelstein said.
Rather than picket their own building, tucked away on a secluded side street, organizers opted to stake out Mr. MacPherson's more prominent locations.
Outside the star-studded Waverly Inn, the attentive maitre d' tried his best to the quiet the angry crowd. "Graydon is not here tonight," he said, referring to Mr. Carter, the renowned editor of Vanity Fair and part-time restaurateur. "And Sean MacPherson's not here, either." But he offered to take a message. "Graydon is going to call you," he said. "I don't know if you want that."
In fact, no one did. About that time, a police cruiser pulled up to the corner of Bank Street and Waverly Place to disburse the crowd.
At least one of the hotel's partners did receive the message that evening.
"Hey, that's me!" said developer Ira Drukier, one of Mr. MacPherson's partners in the Jane, pointing to the protesters' signs with a wide grin, as he headed into the restaurant. "What are they upset about?" Mr. Drukier asked. "It's construction," he said with a shrug.
In an earlier interview with The Observer, Mr. Drukier and fellow Jane partner Richard Born described the ongoing project as "a challenge," but insisted that only residents who didn't pay rent would be evicted. (The tenants' attorney, Mr. Mermelstein, disputed this: "They're playing games by not accepting rent and then serving the tenants right away with a nonpayment proceeding.")
The pair seemed truly proud of the compact-room concept, noting that the linens in the Jane's tiny refurbished cabins were of the same 400-thread count as those in the swanky Bowery Hotel's spacious suites. "We call the Jane a micro-luxury," Mr. Born said. "You have flat-screen TVs, wireless Internet, iPod docking station. The hardware is gorgeous brass."
The stylish upgrades offer little comfort to existing tenants, who don't have the luxury of simply switching to newer rooms. "Once you've moved, you lose your rights," noted Mr. Mermelstein, the tenants' attorney.
DESPITE BEING STUCK with subpar accommodations, some tenants plan to cling to their existing rooms as long as they can—if only to spite the new regime.
"I told Sean MacPherson, 'I will pay every penny of my rent. To my last breath, I will get you. You are never going to do this to people again,'" said the tenacious Ms. Oltremare, making good on her threat last week by following up the Waverly Inn protests with pickets outside the Bowery Hotel on Thursday night and then back again at the Waverly the next night.
"I have nothing to do with the Jane Street hotel!" protested the Waverly Inn's co-owner, Mr. Carter, when the demonstrators returned on Friday.
"We're not saying you own it," replied Ms. Oltremare, flipping through her construction photos for the Vanity Fair boss to see. "It's your partner, Sean MacPherson."
Mr. Carter offered to continue the conversation inside the restaurant, but Ms. Oltremare refused to cross the picket line.
She said the protesters would be back again on Tuesday night. And Wednesday night. "We like it here," she said.