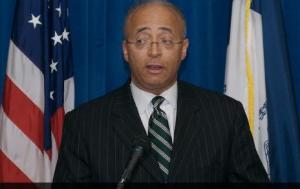 City Comptroller Bill Thompson is calling prospective supporters this morning and telling them that he is in fact going ahead and running for mayor. One person who got a call described it as brief, but convincing.
This source, a lawmaker in the Bronx who intends to support Thompson, said the fact that he's calling supporters "should lay to rest any talk that he's not running for mayor."
Ever since term limits were extended to allow Michael Bloomberg to seek a third term, Thompson, and another mayoral candidate, Representative Anthony Weiner, have been dogged by the widely-held belief that they would eventually drop out of the race and seek re-election to their own posts.
On Thompson's Facebook page today, it says he'll be discussing his political future with Dominic Carter on NY1 tonight.
The rollout, it seems, has begun.
UPDATE: Thompson's campaign web site will launch tomorrow, according to City Room, which published an interview with Thompson. He says, among other things, that he wants to take the city back "from the billionaires who just made a decision about where it's going. Take it back from a small group of people who have made a decision on the direction of the city."