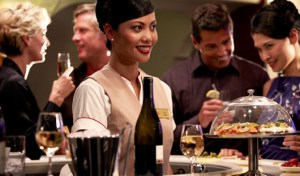 Remember when flying wasn't a completely unpleasant experience? We don't, either! But, as the rest of the world shells out $15 per checked bag and dines on meals of potato chips hastily purchased in the terminal, Dubai's government-owned Emirates airline is taking things in a different, distinctly less miserable, direction.
The company has been proudly touting their Emirates A380 planes, which feature 3 levels of Dubai's special brand of excess. An Economy ticket gets you a widescreen television equipped with 1000 channels of on-demand cable and "adjustable headrests, more space and a sliding base allowing deeper seat recline," while Business Class passengers are set up with fully reclinable massage chairs, a personal mini-bar, and access to the onboard lounge.
Of course, it's really the First Class cabin–a collection of "private suites"–that really lets you know you're doing things the Dubai way. In addition to another, even better lounge, the section has two Shower Spas featuring heated floors, leather seating, and a full-length mirror. The Spas are manned by "dedicated shower attendants," whose job it is to "prepare" the area (and presumably prevent any turbulence-related mishaps). And of course, all passengers are treated to "unique, advanced mood lighting system, complete with a starlit sky" which "adjusts throughout a flight to reflect the time at the destination, and to help combat effects of jet lag."
As if all these futuristic touches weren't enough, the airline is bringing back commercial flight's original selling point: cute stewardesses! The mostly female crew, which is "meticulously" recruited from the developing world (with a 6 percent acceptance rate!), wear "well-fitted" beige skirts, pillbox hats, and long scarves. They're required to attend beauty and etiquette training, maintain the freshness of their make-up, and wear high-heels on the ground and in the air while adhering to weight requirements and a no-pregnancy policy. Additionally, "Emirates' rules require attendants to politely accept a business card or phone number if it's proffered by a passenger," though the airline doesn't require the attendants to "call or give out their own numbers, unless they want to." 
For their part, the staff doesn't seem to have much of a problem with their employer's old-school attitude, probably because the company seems pretty invested in helping them make the most of their off days: 
"Young, single crew members are paired with roommates and housed in blocks of luxury-apartment towers across Dubai. The night life is reminiscent of college. [Stewardess] Ms. Masillamani recalled a recent party at a room in the 21st Century, on Dubai's neon-lighted main strip. Female crew members danced in bikinis while young men sprayed champagne."