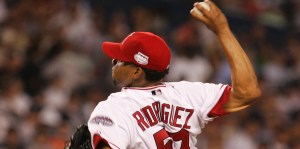 The Mets have casually approached the free agent closer market, and rightfully so. Both Francisco Rodriguez and Brian Fuentes are top choices, but it appears that only the Mets have both the money and the inclination to spend it on a closer, leaving them free to choose.
So New York has let the market come to them, and while Rodriguez, who set the all-time record for saves in a season in 2008, once expected a five-year, $75 million deal, the Mets may sign Rodriguez for as little as three years. Fuentes, meanwhile, appears to be asking for three years as well.
But now it's time to get serious. The temptation will be there to trade talent for a lesser commodity. But the truth is that signing one of them is a must if the Mets are going to seriously address their disastrous bullpen. Still, many baseball people are apprehensive about signing relievers to long-term contracts, and the Mets in particular have been burned by such deals. After all, Billy Wagner broke down in the third of his four-year deal in 2008, which is why they need to seek a closer in the first place.
But a closer look at pitchers at the level of Rodriguez and Fuentes indicates that the risk may not be so pronounced with elite relievers—and the upside for 2009 is too high to ignore.
Rodriguez is coming off what is a down season for him, with just 10.14 strikeouts per nine innings and a 2.24 ERA, good for an ERA+ of 198. Fuentes posted a 2.73 ERA, good for an ERA+ of 168—despite pitching half his games at hitters' paradise Coors Field—and struck out 11.77 per nine. And it is nothing new—Rodriguez has been similarly dominant since he entered the league in 2002, while Fuentes has been consistently excellent going back to 2005.
Of course, signing either to a long-term deal does not guarantee that future performance will match recent success. Instead, a good comparison to determine how either pitcher's three-year deal will turn out would be to look at pitchers who performed at their level from 2003-2005—and how they worked out in 2006-2008.
Six pitchers had an ERA+ of greater than 150 and a strikeout rate of better than nine per nine innings while closing in 2003-2005. Imagine all six were available with a three year contract: what value would they provide?
The first, Eric Gagne, is not a relevant choice—he'd already suffered the arm injury that has sapped him of effectiveness since the 2005 season, limiting him to 13 1/3 innings that year.
The second choice, Brad Lidge, also suffered from extenuating circumstances. His postseason home run to Albert Pujols appeared to sap his confidence, ruining his 2006 season. Even still, Lidge recovered to enjoy a solid 2007, followed by a 2008 that was nearly perfect—not a single blown save, a 1.95 ERA, and 11.94 strikeouts per nine innings. He also ended the 2008 World Series by striking out Eric Hinske. The Mets would certainly sign up for three years like the ones Lidge had.
Third on the list is: Francisco Rodriguez. He performed at nearly as high a level in 2006-2008 as he did in 2003-2005—and just 26, he's a good bet, if healthy, to perform about as well in 2009-20011. Surely, the Mets would sign up for another three years of classic K-Rod.
Then there's Joe Nathan, who pitched to a 182 ERA+ in his age 28-30 seasons from 2003-2005, with a strikeout rate of 10.82. In 2006-2008? The strikeout rate was virtually identical—10.66 per nine—and the ERA+ reached an astounding 270. Nathan's three years are the best-case scenario for signing K-Rod or Fuentes, not a warning to steer clear of them.
The fifth member of the list is Billy Wagner, and the Mets know how those three seasons turned out. But not only was Wagner more than a year older than Fuentes (and nearly a generation removed from Rodriguez), his three years provided pretty good value—a strikeout rate of 10.84 per nine, and an ERA+ of 178. He broke down at an inopportune time—and that fourth year will be worthless—but as a three-year commitment, Wagner provided a pretty good return.
The sixth member of the list, Francisco Cordero, pitched to a 174 ERA+ in 2003-2005, his age 28-30 seasons, but his strikeout rate was just 9.99, lower than either Rodriguez or Fuentes. Still, Cordero's 2006-2008 totals were a 135 ERA+ and a strikeout rate of 10.68.
Of the six similar pitchers from three years ago, the case can be made for signing all five that ended the year healthy.
Ultimately, closers can get hurt, just as any pitcher can. But for relievers pitching at the level of a Francisco Rodriguez or Brian Fuentes, the chances are quite good that the next three years will be comparable to the last three. Given New York's need for a closer, the biggest risk the Mets can take will be not signing either of them.