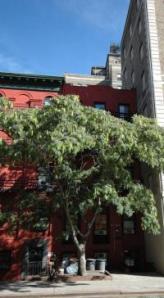 The city's Landmarks Preservation Commission has put a set of 19th-century Chelsea row houses used in the Underground Railroad on track to become landmarks, as the agency is slated to consider the properties at a hearing tomorrow.
The buildings, which create a new "Lamartine Place" historic district, run from 333 to 359 West 29th Street, between Eighth and Ninth avenues. Neighbors in the area have devoted considerable attention to the buildings, particularly as the owner of one of them, 339 West 29th Street, was planning a rooftop addition (landmark status would make such an alteration far more difficult to complete, and any addition would likely have to be contextual).
The properties were also part of the 1863 Civil War Draft Riots, when New Yokers took to the streets in protest of the draft, burning houses and fighting the police.
From the commission's staff summary:
The row houses standing since the mid-nineteenth century on West 29th Street between 8th and 9th Avenues are remarkable for their association with several well-known abolitionist families, for their connection to the Underground Railroad, and for being among the very few documented surviving structures associated with the Civil War Draft Riots of 1863, a pivotal period in New York City history.
Also up for landmarking, per the commission's agenda: the La Mama Experimental Theater at 74 East 4th Street; two buildings on West 56th Street; two libraries in the Bronx; and a few other houses in Manhattan.
Early in the day at the landmarks hearing, the never-ending saga that is the proposed new St. Vincent's West Village hospital comes before the commission. The hospital is expected to present plans for its new building on the site of the O'Toole building.