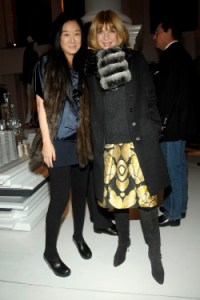 "I know your publisher, he's adorable!" the designer Vera Wang told the Daily Transom at the opening of her first ready-to-wear store in Soho last night. "Unfortunately, I think I could be his grandmother, but if I could date him I would." (We assured Ms. Wang that we would pass her message along.)
Ms. Wang, sipping a bright yellow cocktail and air-kissing whole groups of people as they arrived, was feeling nostalgic.
"This is a party that is meant to be real friends rather than real VIP lists and every celebrity I could find. It is really a personal night for me because I waited a long time for this store," said Ms. Wang. "I last opened a store in New York in September of 1989. Bobby Short played uptown! This is my follow-up."
And is anything different this time around?
"Well, first of all, I'm able to be downtown and I'm able to realize my dream, which was never to be–and i don't mean this derogatorily–but just a bridal designer," she said. "This is my work and my learning curve. It's everything I worked for for 20 years in my own company and before that at Vogue and at Ralph Lauren. So, really, it's a 40-year-celebration." (The designer spent 16 years as a senior fashion editor at Vogue and left to become the design director at Ralph Lauren after losing out the editor-in-chief position to Anna Wintour.)
Of course, just as in 1989, Ms. Wang is opening a brand new store in a time when many high-end boutiques are going out of business.
"I've been anxious about the economy, but I haven't been anxious about my store," said the designer. "Of course I'm nervous, but this is planned three years ago. You can't predict three years in advance."
The minor anxiety about the economy could hardly be detected in the stark white space on Mercer Street. Lobster and crab hors d'oeuvres were being passed around. Paul Sevigny was DJ'ing. Tory Burch stopped by to say hello. And the 2,500 square foot space that somehow seemed much larger due to the tall ceilings and the sunken floors that extended to the far back was so crowded that the air buzzed with "pardon me" and "excuse me."
"Look at the spinning mannequin!" exclaimed one guest, looking up at a mannequin suspended from the ceiling, outfitted in one of Ms. Wang's intricately crocheted dresses.
Ms. Wang recalled the party in 1989 being just as lively, but one thing was different.
"Last time, my mentor Ralph Lauren was there, but he couldn't come tonight," said Ms. Wang. "He sent me a huge bouquet of flowers and said he was thinking of me. So that made my night."