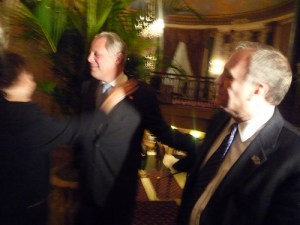 In his Saturday radio-YouTube address, Barack Obama pledged to launch the largest public works project in half a century.
A new labor department report on jobs brought very bad news.
Obama nominated General Eric Shinseki to head veterans affairs, which for several reasons was a very sharp political move.
The New Haven Independent reports that during a talk at some college in Connecticut, Adolfo Carrion said Obama called and said he'll get a cabinet slot. He didn't specify, but speculation points to H.U.D. (via T.P.M.)
Ted Kennedy is reportedly working "back channels" to get Caroline into the Senate.
Crain's declares Andrew Cuomo the leading candidate to replace Hillary Clinton. Also: "self-effacing."
Rudy Giuliani says since Obama has been elected, "we can now be an honest nation."
The Daily News editorial board strongly disapproves of the State Senate leadership deal.
Although there was no outright mayhem, Democratic state senators who attended the meeting in Albany with (for now) presumptive leader Malcolm Smith are not sold on the deal Smith made with the Gang of Three.
As she predicted, rebel Senator Carl Kruger told Liz he's deeply unhappy that, in Albany, Smith told legislators the leadership deal was not final.
Robert Harding thinks Democrats should let the Gang of Three vote for a Republican leader, and work on winning a bigger majority in 2010.
Upstate senators are feeling marginalized.
Also: Senator-elect Pedro Espada, the rebel who won a top position, is facing $60,000 in unpaid fines to the Campaign Finance Board Board of Elections and a series of new fines, because this cycle he failed to even register a campaign committee. This was first reported weeks ago.
No politician or legislative body wants to be responsible for East River bridge tolls, and at the moment, none of them seem to have to, explains William Neuman.
Richard Ravitch has had enough of opponents of his plan to save the M.T.A.
Vito Fossella is looking for a job on Wall Street.
NYPD reshuffling will pull some cops off quality-of-life policing like cabaret and graffiti.
A conservative blogger is amused that Chuck Schumer wants to regulate gift cards.
Wait! Gennaro-Padavan is still not settled.
Marty Markowitz helped a mob-tied restaurant owner get an easy sentence.
Eric Gioia is asking stores to voluntarily take toys that contain lead and other harmful substances off the shelves now, before they have to.
In the wake of local police raids on several stores on Indian reservations, the Democrat & Chronicle editorial board asks if the state needs to take over the issue, or risk violence.
Gail Collins thinks it's just as well the Democrats won't have 60 Senate seats.
Dana Milbank has a very funny account of auto-executives' encore performance in Washington Friday.
Four African-American men who worked at buildings owned by Bernard Spitzer won a racial discrimination lawsuit against him.
Unlike most recent secretaries of commerce, Bill Richardson is a public servant, not a private sector executive.
Bill Ayers continues to make himself heard.
Kathleen Sebelius said she is not joining the Obama administration. Ben says this "will surely fuel speculation that the governor did not get the Cabinet post she wanted or was rejected for the Cabinet altogether."
And partly because of the city tax laws, here's what may happen: "a sudden spate of new pits, some that builders may have had no intention of filling soon anyway. In some cases, if a developer hasn't already paid for the steel, he will be inclined, or forced, to walk away. Buildings that are halfway built tend to get finished, although they may wind up being what are called 'see-throughs.'"