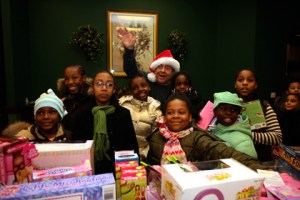 And Iraqi journalist hurled his shoes at George W. Bush during the president's unannounced farewell trip to Baghdad. Relatedly, Dana Perino may have a black eye.
Schools and health care workers are bracing for David Paterson's likely austere budget, which he will present Tuesday.
There's good reason for that, as the Times Union reports there will be deep cuts to education and health care and a restructuring of economic development corporations. Also, a couple of odd measures like an "obesity tax" on non-diet soda and requiring everyone to get new license plates.
The New York Times editorial board says Manhattan judge Jonathan Lippman "has the edge" to replace Chief Judge Judith Kaye.
The Charles B. Rangel Center for Public Service is postponing its opening reception, previously scheduled for Tuesday, one week after the Times raised questions about its donations.
Paterson said he's "close" to appointing someone to Hillary Clinton's Senate seat, but did not specify how long that might be.
The Daily News is offended by a so-so Saturday Night Live spoof of the governor.
Robert Harding mostly approves of The Buffalo's News' takedown of Joseph Illuzzi's web site.
The city has been protecting doctors at its public hospitals when they are accused of malpractice.
Michael Bloomberg: "Letting any group have a special deal is not what democracy is about. It breeds contempt for our laws."
The Port Authority has to drop $20 million more on Ground Zero late fees.
Several city officials are concerned about how natural gas drilling upstate could affect New York City's water supply.
In a rambling but entertaining column George Will excoriates Michael Bloomberg, John Catsimatidis, the New York City mayor's race, the City Council, and, more or less, "this city, which fancies itself the final word in worldliness."
Obama chose city housing commissioner Shaun Donovan for HUD.
Adolfo Carrion will be the head of Obama's Urban Policy Office; a new Bronx borough president will be chosen by special election.
Ben says those two picks–who are both in the Obama-Bloomberg tradition–make New York the "model city."
A Long Island Indian chief says Bloomberg is using the tribe as a scapegoat.
A blogger in Buffalo is glad the Canalside project is going to have less retail.
The Federal Reserve refused to tell Bloomberg News what entities had received $2 trillion in emergency taxpayer-funded loans.
The commissioner of the Department for the Aging quit suddenly, late in the afternoon on Friday.
Paterson signed a bill requiring some businesses to offer plastic-bag recycling.
A Carroll Gardens blogger is irritated that no elected officials sent out a notice about the public scoping meeting on the Public Place project in Gowanus. [corrected]
The goals of Obama's infrastructure plan are unexpectedly modest.
Bob Gates to world: "So anyone who thought that the upcoming months might present opportunities to 'test' the new president would be sorely mistaken."
Joe Biden plans to drastically reduce the role of the vice president, which Dick Cheney drastically expanded.
Rahm Emanuel did talk to Rod Blagojevich about the Obama's Senate seat, but there's nothing incriminating about it.
Blagojevich may not have resigned yet because he wants the leverage, or it might just be because he likes the attention, according to the Washington Post.
Patrick Fitzgerald will be deified. 
There was a fire in Sarah Palin's Wasilla church, and arson is suspected.
At the McCain campaign yard sale, there were $20 Blackberrys being sold–contacts and emails intact.